Hi, my black GTI auto is in search of a new owner who will be able to look after it and have time and the skills necessary to keep it in good order. I don't want much, any reasonable offer will be considered...
Part of the reason I'm selling is that I want to get my silver GTI's engine 'refurbished' - head off etc... plus get some other bits done and I'll need some extra cash - but mainly won't need the additional expense of running two BXs when I need only one at the moment.
I acknowledge that there are some things that will need looking at - although there's nothing urgent. In fact it sailed through its MOT in December. Recent work done: new drive plate, rear arm bearing, oil/filter service, new battery, inhibitor switch bypass button, 16v steering wheel fitted... There's still a lot of life in the P6000s on its grey 16v rims. I have the original steels with two good tyres on them too.
Things it will need looking at: Exhaust downpipe - and probable center section too (a bit knackered and rattly though nothing but a small blow - at the moment), PAS (a bit reluctant in the morning but soon warms up OK), front n/s CV joint occasional noise on lock under power, hard-ish ride - spheres or maybe it needs an LHM change - or both, needs a good machine polish and the sunroof glass is dirty/patchy. I think it could do with a bit of a tune up and I've got some new plugs ready...
And that's it really. It comes with rear head rests and a sunroof deflector, working radio cassette and 6 speakers, new heavy duty battery... It's got history from new, 109k on it (engine job at c83k), MOT to December but Tax runs out end of March...
So if you're interested, let me know. Please ask any questions you like. I can send more pics if you want.
Phil
PS These pics show the car with vgc 16v alloys and new tyres. These are to be put on my other BX which will swap its perfectly reasonable set of Pirelli P6000s on 16v rims (grey too)... so it will look the same. Just didn't want to mislead.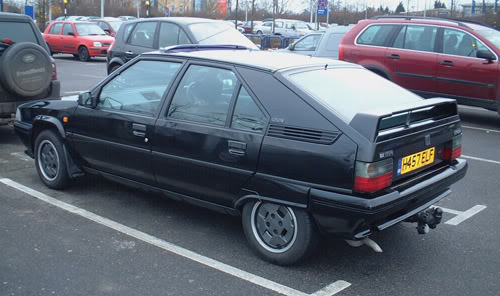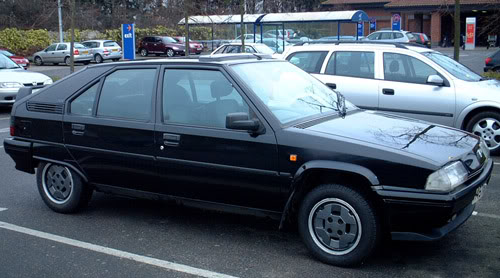 Here are the wheels that the black car will have. (On my silver BX in the centre of this pic):