I am currently bidding on another Diesel BX local to me and if I win it I'll need to sell one of my other BX's:
My silver 1991 GTi auto with air conditioning.
161,000 miles
FSH from new
MOT to mid-July 2007, currently on a SORN in a dry garage.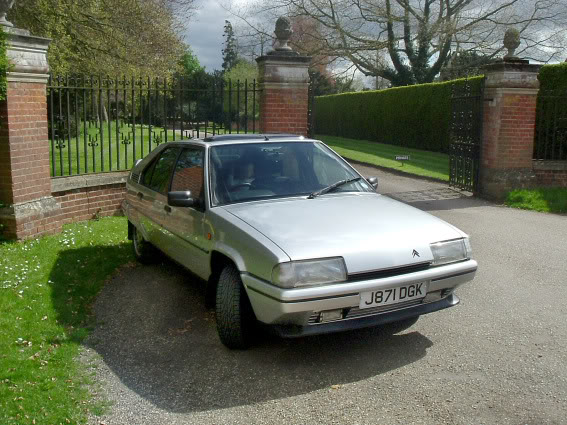 A really nice car which is in fine fettle generally. Everything works as it should - including front fogs, remote central locking plipper, electric sunroof, windows, heater controls, ABS, etc. It really is in extremely clean condition and the silver paintwork is superb but it will need a little bit of work to prevent problems in the future. I know there is some rust in the nearside boot floor corner (hardly unusual, I know) which I have been quoted £80 to fix. Some minor corrosion on the front rear wheel arches and inner front wings. I don't believe this is serious - and certainly hasn't got any worse since the last MOT (no advisories).
Then we get to the mechanicals. In nearly four years it has only ever suffered from a couple of LHM leaks and has had those dealt with by repair - or as in the case of the last one, total replacement of the steering ram and associated pipework.
The engine is still fine but burns a bit of oil so (after all it's got 161k on it) I might consider having the valve stem oil seals done one day. It's had both rear arm bearings, timing belt, fuel line, brakes, spheres, rear ABS sensor, PAS ram, LHM flush, new radiator, ignition barrel, etc. done within the last 24k miles - most much more recently.
The pipework is in excellent order although there is a minor weep/drip of LHM from the FDV end of things, but it is slight (I have been strongly advised to just live with it as the LHM loss is so minor) - and the only thing I'd suggest is putting a tray under the car at night to save driveways from any cumulative staining until the unions can be tightened and a more thorough investigation made. Recently the gearbox (which is superb) has been checked and topped up with the correct fluid.
The air conditioning works fine but only for about 10-12 months at a time as I have to use RS24 in place of R12 and it just doesn't last. I had some 'O' rings replaced last time but didn't seem to add more that a couple of months to the 'life' of it before another regas is due (unless you can wait the 20-30 mins before it starts working effectively). One thing though, during the summer (May - October) it did an absolutely sterling job and brought the temperature down nicely - blows pretty bloomin' cold actually - so I reckon the £65 per annum to regas is acceptable...
The interior's clean and tidy (no pets or smokers here). The sunroof and the rear shelf sunblinds work. The engine bay looks very good indeed for the age of car and the battery is virtually new. The exhaust seems fine and has a decent back box - I had a new bit put in recently - I think it was the section before the back box, around the rear wheels - can't remember!
It is running on 16v graphite Speedlines (recently rebalanced) with very good 195 profile Pirelli P6000s on (one is virtually brand new) and the spare steel (bolts included!) has a 185 Continental on it, which is in very good order too.
There is a Panasonic face-off CD radio and six speakers. There are two headphone plugs and a power supply to the rear of the centre console. There are two, small, tasteful enamel French flags on its C-Pillars - but careful application of a hairdryer will soften the adhesive allowing their removal if this is just too much to stomach lol!
Unfortunately I am retaining the rear head rests for use in our other BX and I am keeping hold of the deflector as I intend to get another sun-roofed hatch soon.
So, if it's so good why not keep it, you ask. Well, as you may know I'm not one for tackling many jobs myself, and I know the members of this forum are so adept that this car will hopefully find a home with someone who will get their hands dirty... This car deserves it.
It deserves to go to a BX enthusiast and this is a 'pre-ebay' offer. I can Tax the car for any buyer prior to collection, at cost.
So if you are interested, let me know. I will consider offers over £300...
Phil