1992 BX 1769cc TZD Special edition "Hurricane" Diesel.
In metallic dark green, sunroof, Dark Green Velour seating, fitted with JVC CD auto changer (over £200)... for free or just about.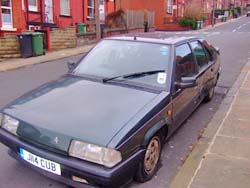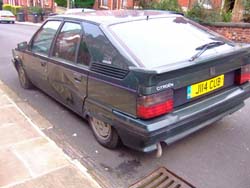 Old family friend been with us since it came from the dealers yet only clocked up just over 70000 miles, the turbo diesel is just about "run in" and is a sweet runner. The car has been a reliable member of the family but has now become surplus to requirement and needs a good home with someone who loves BXs.
Due to illness I can no longer sort those things that go wrong with a 15 year old car. It is currently "immobile" due to a leak in the hydraulic line, so would need transportation to a place of repair (or on the spot temp repair, if you know what your doing). Further problems are a bash on the rear offside door (which I am told will come out quite easily) and some tidy up work near the off side sidelight. This car is not ready for the breakers. Good restoration project for a BX fan.
* There is MOT until mid March 2008 and Road Tax until end of March 2008 so I would want £65 to cover outstanding Tax and towards the Radio/CD system.
Car located in the Kirkstall area of Leeds, near my son's house. I live some 7 miles away in Pudsey so would have to agree any meeting etc.