So most of you will be familiar with the 'red shell':
For those not, it's a ph2 16v in red that I bought for £100. It had its engine ripped out for a 205 conversion way back in 2008, and the guy I bought it from bought it (for £150) with the intention of restoring it and preventing the numbers falling by another 1. His situation didn't work out, and I bought the car back in the summer.
My intention initially was to break the remains for spares as we all know some are becoming hard to find. I then found that
most
of the bodyshell was in exceptionally good condition, with little rot in the usual places, so started to ponder using the running spares from G-SEG (which really is rotten beyond all doubt) and doing the same thing the previous guy wanted to do, but it had to make financial sense (in other words I can't lose money doing it).
It had, however,
really
let go in one area, which was up the A-pillar. It'd be a windscreen out job to repair properly, and likely end up being on the sort of scale the GT has been. With this in mind I decided it was going to be a breaker, and started pulling bits off it.
Fast-forward to today, and since the weekend at the NEC, I've begun to entertain the thoughts in my head that have been there for a while now, and they're "should I fix it afterall?" They're pretty rare, and this car really did look like a good one before it was pillaged. I've seen cars needing more work being repaired, and some of the advice I'd been giving to passers-by at the NEC would end up making me contradict myself if I didn't follow it too.
So I decided (just after I agreed to sell my spare interior and spare alloy wheels

) to just do it. Life's too short, afterall. So next year, G553XPO will be making a return to the roads afterall. The only question I currently have is a big one.....which way do I take it?
On one hand, I could polish the shit of the paintwork, get it running nicely and MoT'd etc and then decide what to do with it. I fancy running it around for a bit, but long term I'd be trying to find it a secure home (my big fear is that I put in all this work and then someone bins it, or scraps it a year down the line etc). The bodywork is tired (worse than BAH) and with the best will in the world it'll only ever be a 20ft car....maybe not even that from the front end. It would be quicker and cheaper for me to do, but at the same time the cars future isn't as assured this way, and I wouldn't get too much money for it at the end of the day (which is important, as I've promised a new kitchen to the missus'). Red ph2 16vs aren't exactly the rarest of the breed, afterall.
Second option, is to strip G-SEG of all grey bodywork, fit to the red shell, and then have the remaining panels on the red shell resprayed to match. Would be a lot of work doing door shuts etc, but then I believe (happy to hear opinions) the grey is a more desirable colour than red for a ph2 16v. Most of the bodywork on G-SEG is quite good. Downside is that it won't be original for that car, though it is obviously still an original 16v colour.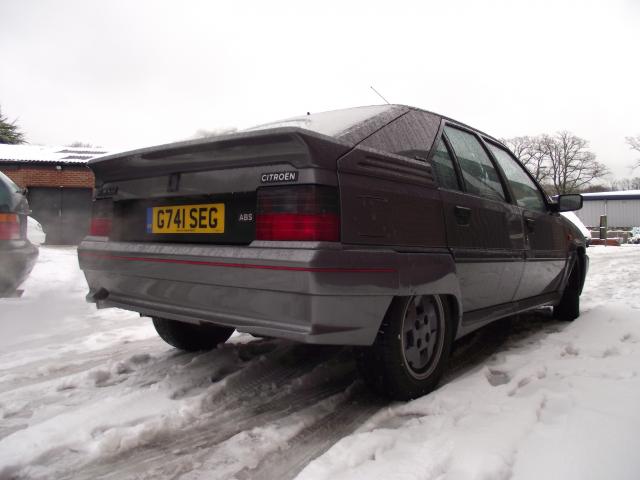 Either way I'll have to partially rebuild the engine before fitting it as it's not the sweetest ever, but we can work with that.
So basically, keeping it red is quicker, easier and original, but won't yield as good a result at the end, nor a rare colour. Going grey means rarer and potentially more desirable for future sales/life assurance, but it's not original and it's a lot more work/more outlay. Risk of outlay not being matched when the car is sold, but more satisfaction in doing the job. But then part of G-SEG lives on at least. Decisions!
So, anybody? Happy to listen to all opinions!