scrappydoo

Confirmed BX'er
Posts: 47
Joined: Fri Oct 23, 2009 5:21 pm
---
mat_fenwick

Moderator
Posts: 7320
Joined: Tue Sep 20, 2005 4:08 pm
Location: North Wales
x 17
Right, I've taken a photo of my switch internals. It looks very similar to the photo in Khan's link, here:
linky thing
Mine is like this: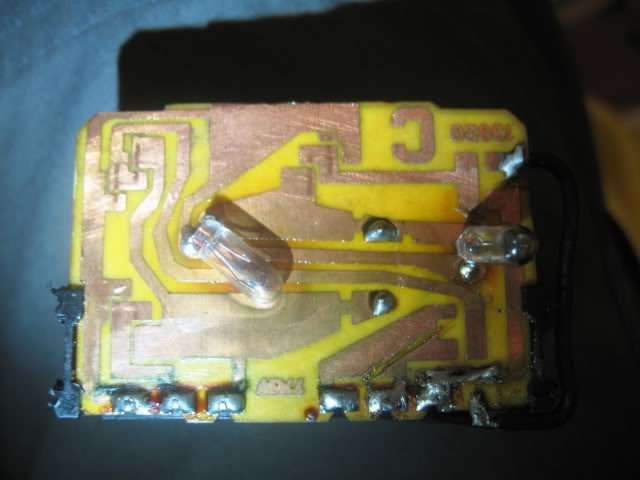 Where the black lines are on the first photo is where to cut the tracks; where the red marking is, this indicates a link. On mine you can just about make out the black link wire I have run outside the switch casing. (Above the link wire on mine, in the bottom RH corner you can see where I accidentally cut the wrong track and had to patch it back together again

) Hopefully on my photo you can see where I have cut.
I can't understand all the French link, but I think the relay is for when you are using the XM switch (as I had initially thought looks identical) which reverses the up and down motion of the mirror.
Does this all make some kind of sense?!
---
prm

BXpert
Posts: 192
Joined: Tue May 01, 2007 7:54 pm
Location: Surrey
---
scrappydoo

Confirmed BX'er
Posts: 47
Joined: Fri Oct 23, 2009 5:21 pm
---
scrappydoo

Confirmed BX'er
Posts: 47
Joined: Fri Oct 23, 2009 5:21 pm
---
mat_fenwick

Moderator
Posts: 7320
Joined: Tue Sep 20, 2005 4:08 pm
Location: North Wales
x 17
I already wrote:you'll need to delve around under/behind the glovebox where the wiring from both mirrors joins together. Cut the wires for the drivers mirror and run them to the switch.
To elaborate on that a bit - the 2 wires already connected to your switch split into 4 wires behind the glovebox and go off to each mirror. You need to establish which wires go to the drivers mirror, and then take those wires to the redundant terminals on your modified switch. I took the carpet up, traced them back and pulled them through.
---
scrappydoo

Confirmed BX'er
Posts: 47
Joined: Fri Oct 23, 2009 5:21 pm
---