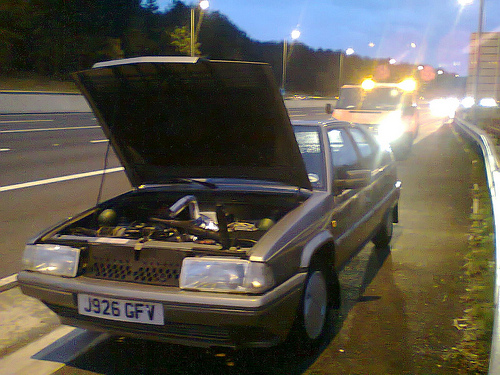 Photo0088
by
willswitchengage
, on Flickr
If I ever get a proper a blog on here/use the car more than once a week, thought I might start it in style

Travelling leisurely up the M1 near Nottingham at a steady
56mph
, notice a lovely white cloud appearing behind me. The next thing I know I can see it under the bonnet and there's a big red light saying "stop" on the dash, I wonder what it means?
Fastest pullover in history/clever use of no ABS and I find the cause of the problem:
P1030444
by
willswitchengage
, on Flickr
Mr RAC said it was just the rubber degrading and not caused by overheating, dodgy cooling circuitry, overpressure etc, so phew and I just hope nothing else has been hurt in my steamy ten seconds or so. Managed to make the 80 odd mile remainder of my journey problem free, so a lucky escape and £26 on breakdown cover well spent

In other news, generally quite pleased with the car although I really regret not finding an NA diesel for the frugality and reliability. The petrol's an arse to start and all the power's where I never use it, so it feels quite sluggish. Many other niggles need fixing but their time will come.