Messages: 5 • Page 1 of 1
kiwi

Over 2k
Posts: 2380
Joined: Sat Jan 13, 2007 10:20 am
Location: Nouvelle Zealande
x 4
Ok so the big red one is not a BX but damn fun to have to drive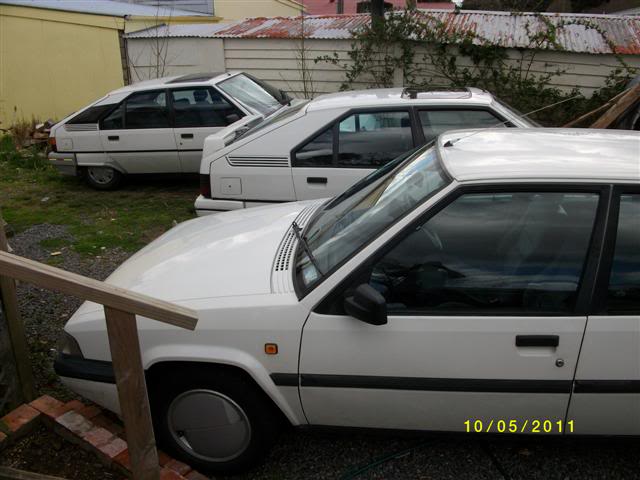 Last edited by
kiwi
on Wed Dec 14, 2011 7:29 pm, edited 1 time in total.
1991 BX19 TZS 04/01/91 (Deceased)
1990 BX19 TRS 27/10/89 (Reborn)
1992 BX19 TXD (Ex UK - K 744 SDF) 15/06/92
1990 BX19 TZS Auto 06/11/1989
1992 BX TZD Turbo Estate (Ex UK) 1/07/91
---
Tim Leech

Over 2k
Posts: 15471
Joined: Tue Apr 15, 2008 11:12 am
Location: Derby
My Cars: LOTS!
x 121
---
Paul296

Over 2k
Posts: 3483
Joined: Wed Nov 03, 2010 10:39 pm
Location: Newark Nottinghamshire
My Cars: Citroen BX 17 TZD Hurricane
Citroen BX 17 TGD
---
bx petrol auto saloon

BXpert
Posts: 477
Joined: Mon Aug 22, 2011 11:50 am
Location: Tonbridge KENT
My Cars: Citroens SAABs and Vauxhalls
x 2
Dear Kiwi.
Nice to see three beautifull BX,s Kiwi, they do look very very nice in
white don,t they

But then I am biased, as I have a white one too, mine is a 93 1.6cc
8 valve TXi petrol saloon automatic with air-con. with a pram handle
spoiler on the back.
What are yours Kiwi

and how long have you had them

and
how many miles have they done

All The Best.
Vince.
Passion Hydropneumatic Citroen,s

Cars;- 1993 White Citroen BX 1.6 TXi petrol
saloon auto with air-con & ABS.
47,594 Miles from new.
Owned for 3 years sorned.
1988 Silver SAAB 900i 2.0 8v F/lift,
saloon 5sp with 3 spoke Ronals,
69,000 Miles from new.
Owned for 15 years T & T.
---
maxgreenwood

BXpert
Posts: 830
Joined: Wed Aug 15, 2007 9:44 pm
Location: Dublin, Ireland
A fellow fan of the white Bx! I'm currently growing to love my new grey one tho, once it has a few issues sorted I think it will be my dream machine.. I hope.
'92 16TXS (m), Dark metallic green, 74k
'90 16TZS (m), White, 86k
'89 19TRS auto, Olympic Blue, 133k
'88 Saab 900 8v Turbo (auto) 107k Red with Tan leather, lovely drive and well maintained.
'07 Hyundai Santa Fe 2.2 CRDi 85k (m). Practical family wagon
---
Messages: 5 • Page 1 of 1