Sad to report that my friend urgently needs to sell the BX he bought from me (or a guitar or PC soundcard that may mean he can keep the BX).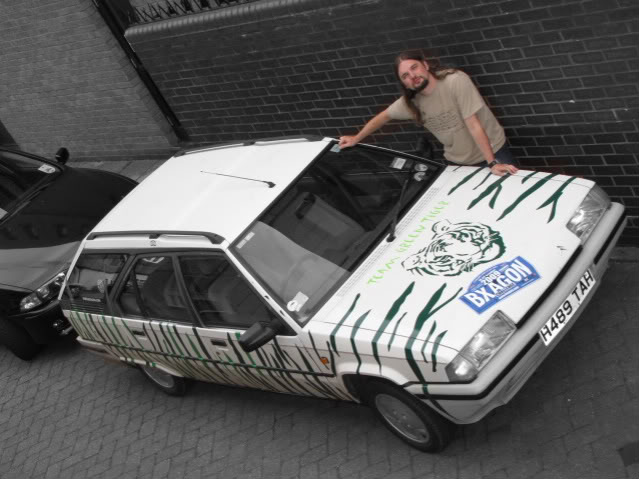 (Picture taken in 2009)
I haven't seen the car since March, and it hasn't been serviced since I owned it. However, it has had a replacement rear suspension unit after developing a leak (about two weeks after I sold it...) and I had a ridiculous amount of work done to the car during my ownership. That included timing belt, hydraflush, new alternator, replacement starter motor, ARB drop links, a front suspension arm and a fair bit more I can't remember.
It's not problem free. The new owner is a smoker, corrosion is making its mark (washer bottles, rear crossmember, LH rear wing, the heater control is a bicycle brake cable (I think the tap may have jammed too) and the driver's seat is a bit scruffy. It is also still covered in green stripes (stickers). However, it is overall very sound, has half a year's MOT and a couple of months of tax. Currently located in Ramsgate and he's asking for offers. Has to be worth £295 of anyone's money I would have thought? It's a great car and I often regret selling it. However, I hope to get my Mk1 up to the same mechanical condition and can't really justify two BX diesel estates. I have tried...
Contact MistahG of this parish, or drop me a PM if you're interested.