This evening, I shall mostly be doing the happy 'I got one, I got one' dance.
Stream of consciousness follows:
- Busy Sat 18 Feb, didn't spot
this post
until the next evening - looks like it passed everyone else by too!.
---
Crap, there is no way I can get to Bristol until next weekend ...
- But, as pointed out, no photos and the ad is - well, one of those that makes you read between the lines. So maybe it'll sit for a bit.
---
Thread seems to have passed everyone else by as well. OK, let's keep vewwy vewwy twiet and hunt wabbits, I mean check the Gumtree link twice a day Mon/Tue/Wed
-Thursday 23 afternoon - ad still there, phone the guy - I could go Sunday? Nope, he can't do until Tue. I can't do Tue.
-Fix for Wed 29 pm.
- Wed 29: hop on a train from Paddington, eat lunch, browse through Haynes manuals, play with phone, usual train stuff.
- Arrive Temple Meads, no problems getting bus to where the car is (good directions etc)
It's clean, interior is in very good nick for a 153K car - parcel shelf supports have broken, but those can wait. Exterior has the usual odd scratch/dent that you'd expect on a 21-year old car, the major things on that being that both front and rear bumpers are cracked (but front at least is secure - apparently seller bought it like that and it passed MOT last year). The boot is starting to rust in the corners, but hopefully not too major, door hinges - again, a tiny bit of surface rust, but a good clean/treat should fix that. Front suspension may need recharging, there's a little bit of a pull to the right and judder through steering at *cough* 75 mph - but it has just had 2 new tyres, so hopefully only a tracking tweak there. Bit of a rattle at the back, but doesn't sound terminal - exhaust clamp? - possibly even the loose parcel shelf rattling in the boot!
Pile of service history 4 inches thick - everything since the car was first registered in Aug 91. Originally a lease car, which was then purchased by the user/leaseholder for his wife when it came to the end of its 3 years or so, guy I bought it from has had it just over a year and was obviously fond of it, but sometimes you got to do things you don't want to do like sell a car you like! He has a BX estate, have encouraged him to sign up here so he can keep up with how it's doing - and as he's a fan.
I need to go through the service history properly and get a handle on exactly what's been done - few things I spotted which made me think "good, that's been done" and will post a more detailed snagging report a) when I'm less knackered (4 hour drive back :S - it behaved itself beautifully, but the door seals will have to be replaced as that wind noise was frickin' annoying) and b) when someone more expert than me has looked at it and gone '

how could you have missed that?!!'

- hopefully nothing show-stopping (and I don't believe there will be)
I will get a photobucket account sorted when I can be bothered
(EDIT - which I have now done)
- Taken at the service station 'cos I was dying for a cup of tea and figured a stop would mean that the traffic was slightly less awful closer to t'other end of the M4. Light was starting to go, will take some more pics tomorrow.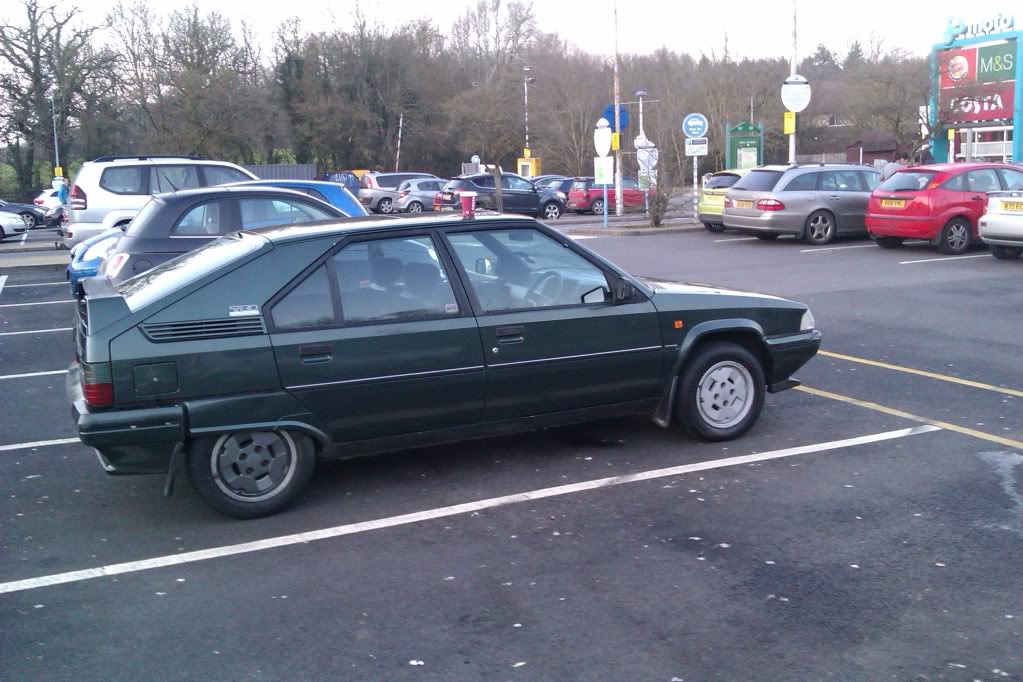 Leigh Delamere pitstop
So! The really important question now (given the date) is "If you are a millionnaire and single, will you marry me?"