Well I didn't manage to get to the GT until 4pm because of various family oriented interruptions. But got down to the garage, it was sunny and warm and lovely. She started 1st time again, very definitely blowing exhaust manifold though, and I noticed the cooling fan does work, it's just incredibly quiet! So you can't hear it inside the car. The edge of the steel wheels, the radiator bottom support and some surface rust on piping and other metal bits underneath is all the rust I could find, i'm going to want to keep an eye on the pipes (coiled ones behind are the most rusty) but they are all solid and I had envisioned a re-pipe at some point in it's life anyway. The other surface rust will be dealt with using a wire brush, some brick/concrete cleaning acid and my old mate, Hammerite.
After a good wash, the paintwork is very good, there are 3 dents in the passenger side rear wing in a cluster, a few touched up scrapes on the front and rear wheel arches and the bonnet front and front-top is very chipped and poor. So a respray of the bonnet and a few patches here and there at the dent-man's place will make it very nice. The bumpers may get away without being painted, it's only the top face of the front and rear that has faded, so with some trim restoring stuff or a heat gun hopefully that'll get them back to slatey grey colour.
The gearbox oil (although already scheduled for changing) must be old/low as it can be quite difficult to get into reverse, it does seem a very 'french' gearbox overall really! The gears feel about 12" apart from each other, the gearstick seems to travel ALOT, I frequently put it in 1st when I think it is in reverse! Will have to watch out for that, but i'm sure new oil will help and i'll get used to it.
It's a difficult colour to photograph, it looks best when it's overcast or when the sun is setting etc, in bright daylight the camera doesn't capture the colour very well, it looks washed out.
After washing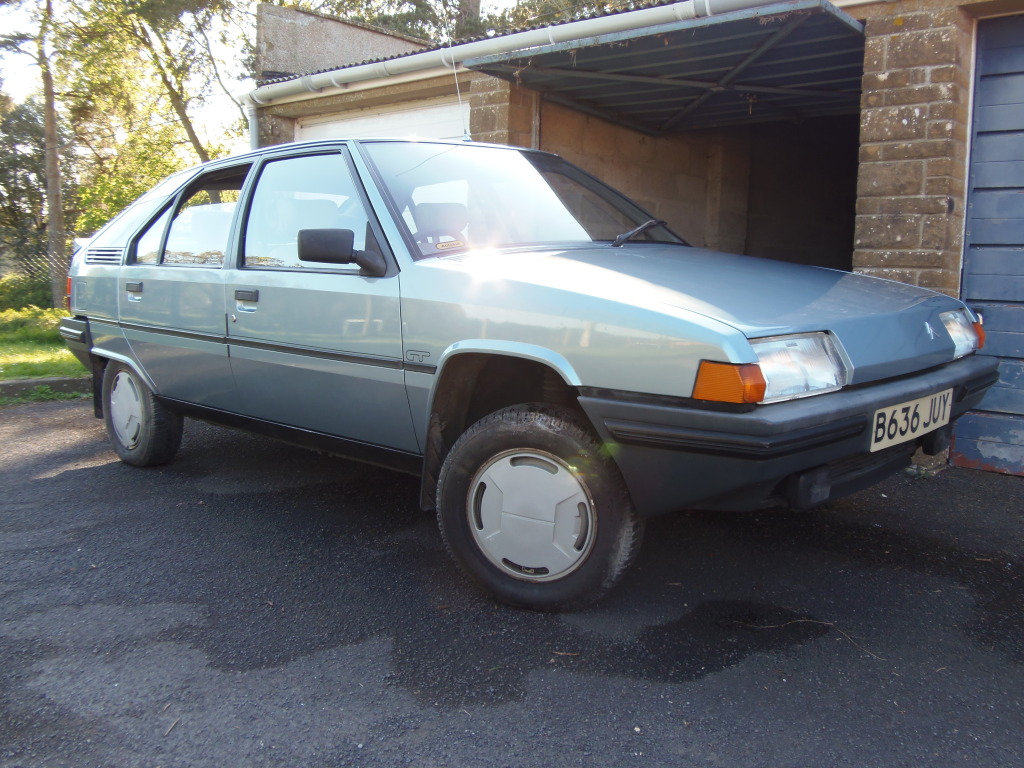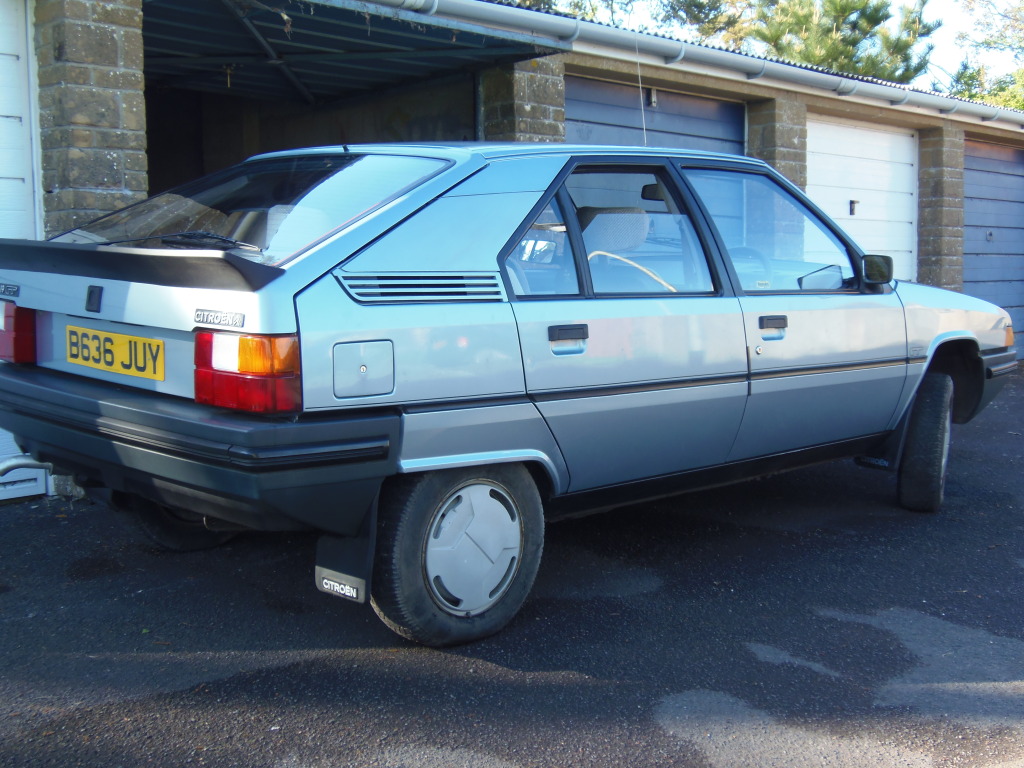 (bump stops need checking I think...)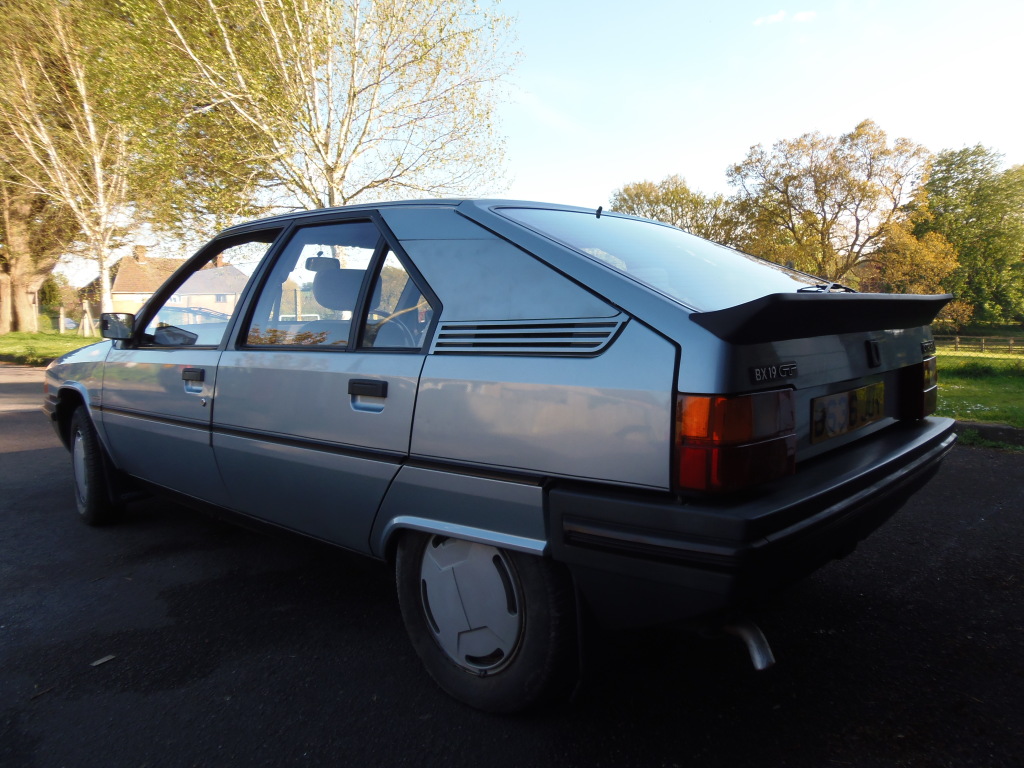 Interior is still clean, but there was mould starting to grow on the door cards. Also noticed the garage she's in is leaking and is quite moist inside, so she'll be going into the other one we are renting (to store things temporarily when we move in June), but she's covered now and the leaks are only around the back of the garage.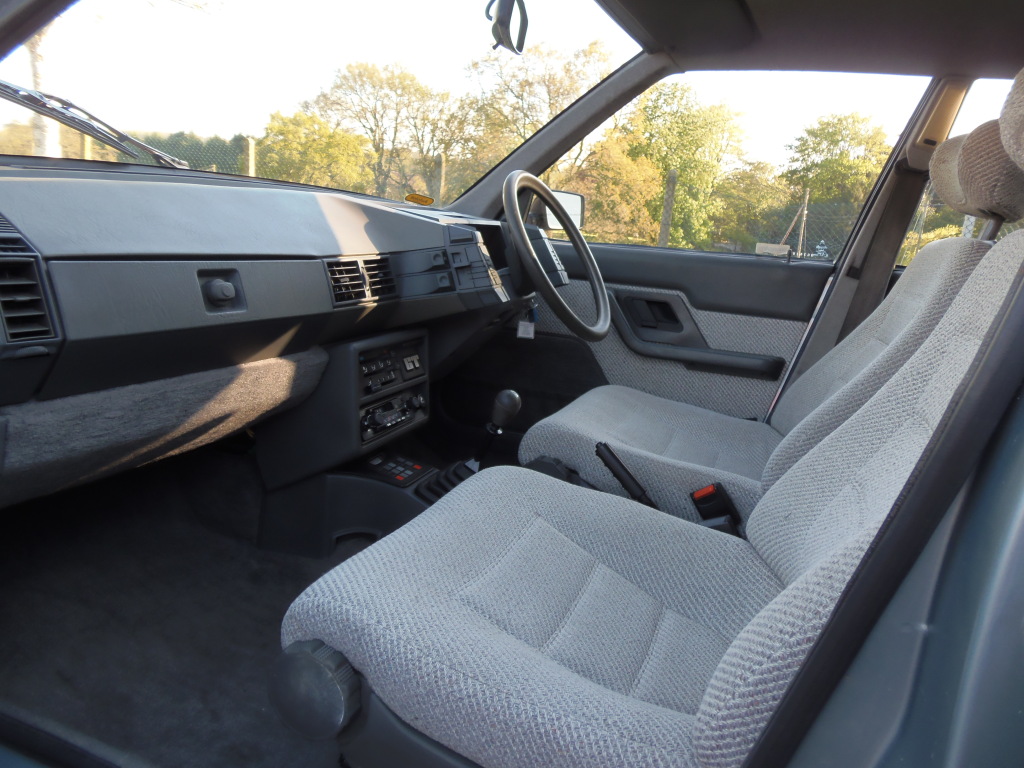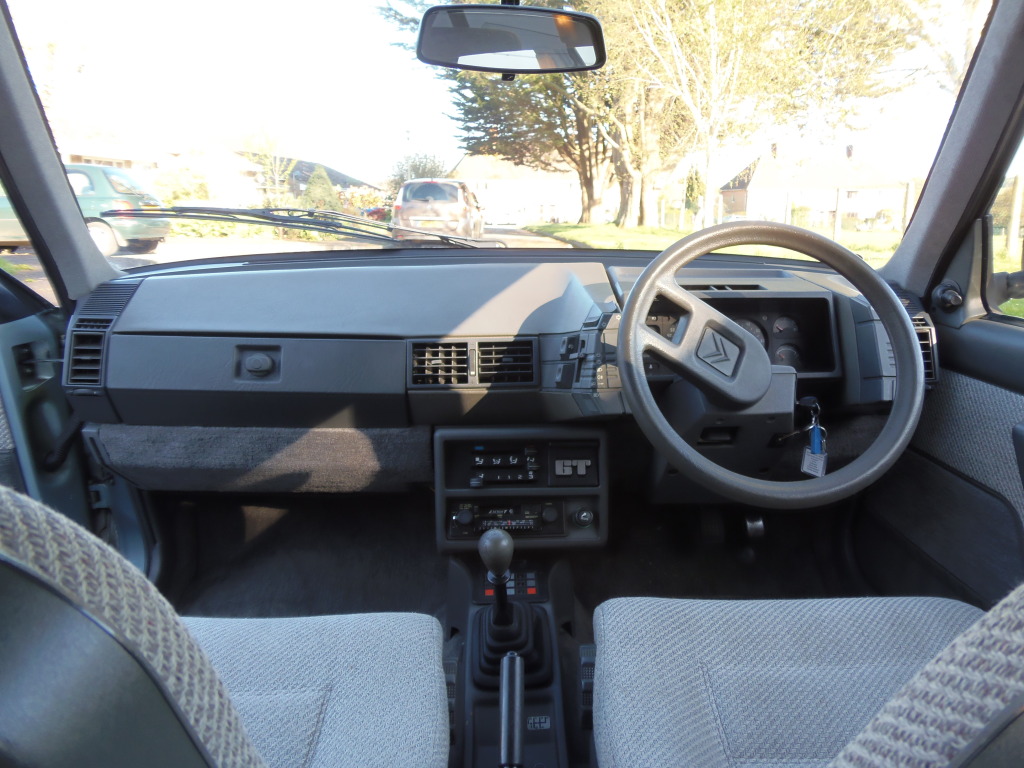 Polished the drivers door, bonnet and front wings;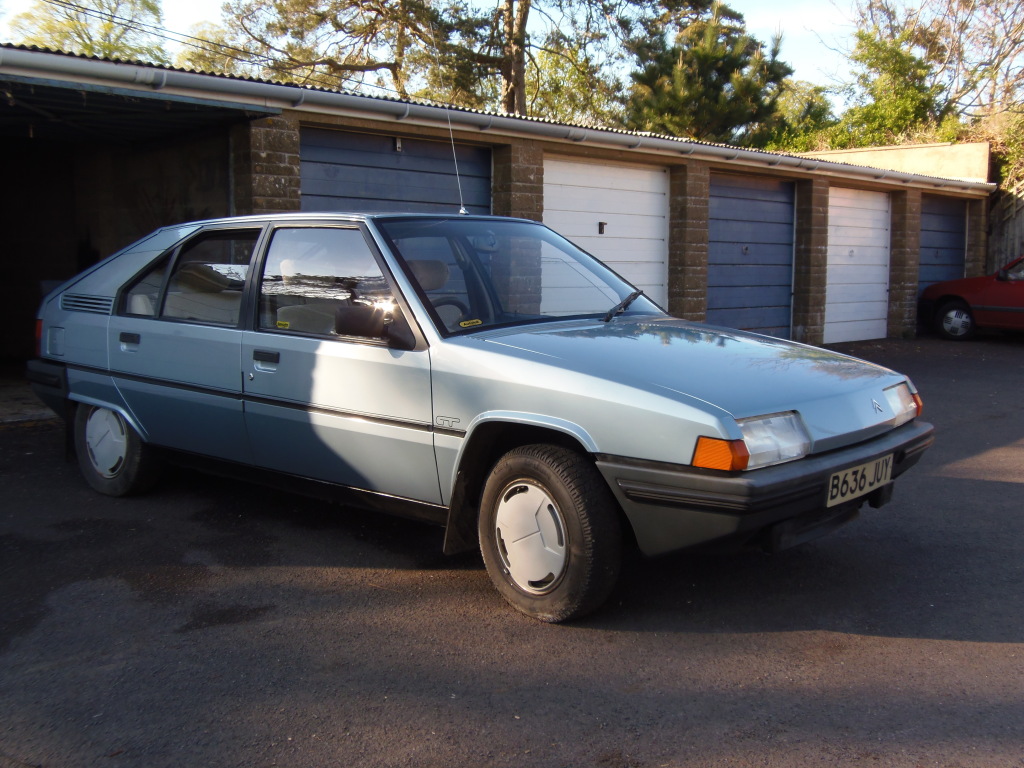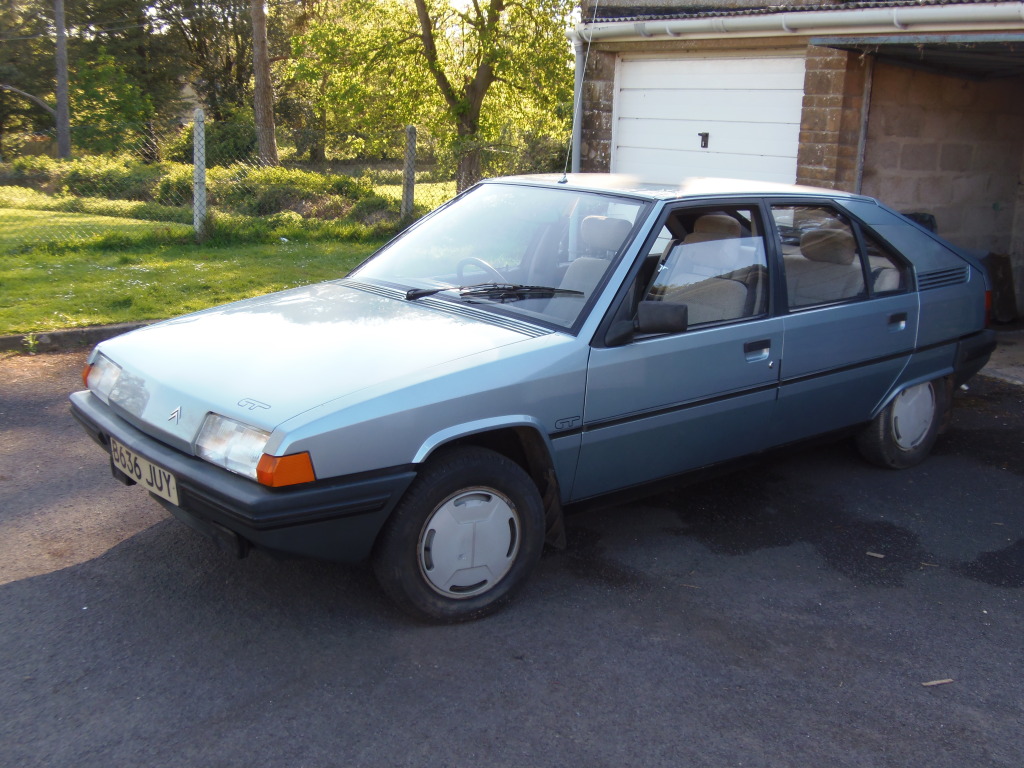 The photo's are very flattering for the car, up close there are quite a few blemishes and little scratches, hopefully something a good cutting will reduce. Manky, perished tyres and rusty steelies make it look tatty, freshly painted steelies and new tyres will complete the car I think. All the electrics work, including the optional rear leccy windows, but the drivers door window has come off of it's tracking, is this a door card off job? It would'nt go back on by pushing the glass down.
Polishing didn't make a noticeable difference, so a going over with some cutting compound might improve things further. Didn't have time to get the wax out, that'll get done after a cut. Had a crazy weekend, trying to get revision done today, but my eyes are so puffy and tired I don't think it's going to happen - i've got all my gumph organised so hopefully will start afresh tomorrow. Going to have a bath now, with a strong black coffee and chocolate, yummmmm