There's big news about the CX, XM and Xantia Rally. Following the CX Section Committe Meeting that was held at the DSM, we are pleased to announce details for the Rally (7-9th September). Please see below for the Rally Advert...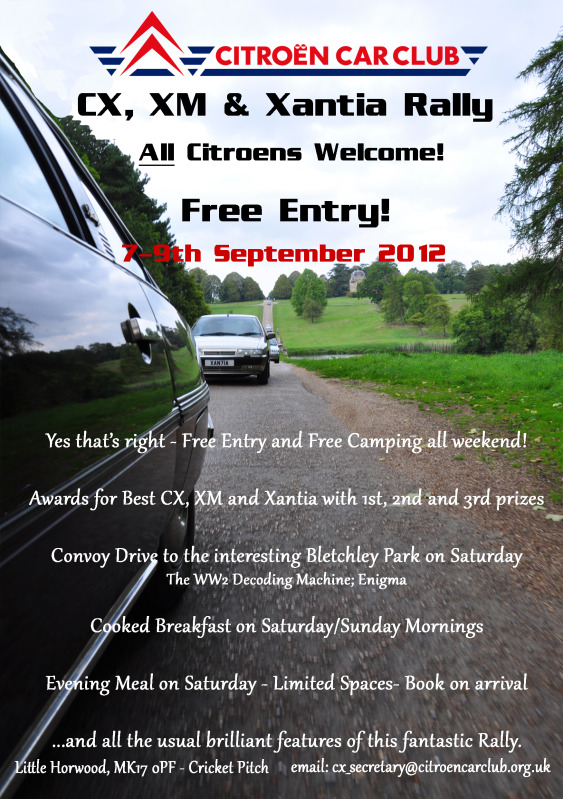 As you can see from the advert above, the main change is that it is
Free Entry!
You don't have to pay a penny to enter the field and camping is free of charge too! No expensive entry here at all...
We will of course have a
convoy
again, kindly organised by Jim, to
Bletchley Park
(home of the WW2 Decoding Machine; Enigma, and other interesting features). Jim is organising a scenic route through the lanes and backroads and upon arrival we can park outside the mansion in the oval. Perfect for photos... This is happening on Saturday at 1:00pm and we have a group visit booked - entry is £12 per head. See their website for what this fantastic location has to offer:
http://www.bletchleypark.org.uk/
" onclick="window.open(this.href);return false;
Cooked Buffet Breakfasts
are available on Saturday and Sunday Mornings (from 8am to 10am) at the Shoulder of Mutton Pub next to the Rally Site (£4 per head).
The
Fish and Chip Van
will be coming around on Friday Evening as is the usual...
For Saturday Evening we have
organised a meal
to be held at the Shoulder of Mutton Pub. A menu was drawn up with the Pub that features a wide choice so (hopefully!) everyone will be catered for. The menu is below, and a vegetarian option will of course be available. Menu subject to change.
Starters - Smoked Salmon, Paté Dish, Tomato and Basil Salad.
Mains - Beef Bourguignon, Coq au Vin, Old Smokey Burger (Pub Special).
Desert - Tart ou Citron, Chocolate Fudge Cake, Profiteroles.
The cost for the meal is £15 per head and will be at 7:30pm on Saturday Evening.
Refreshments
on the Saturday and Sunday Afternoons will be available in the kitchen that include Filled Rolls, Tea, Coffee and Soft Drinks.
There will be
trophies
for Best CX, XM and Xantia present, with rosettes too for 1st, 2nd and 3rd (like the X Rally). Also there is of course the Roger Bradford "Roger's Choice" Trophy (the car he would exclaim
"Good God"
at if he had seen it...) and the Eileen Stearnes Trophy (the car that has been brought back from the dead/improved the most and deserves special recognition...)
...and of course the brilliant atmosphere that is only the CX, XM and Xantia Rally!
BXs are of course very welcome too...