If I've got it right, the subject is now Timex and friends, as my attention has been diverted by other vehicles in the collection lately!
As I had the Baby Vara booked on the ferry to Ireland, I thought I'd better sort out the fuel leak that had rendered it unuseable for much of the summer. It turned out that the replacement I'd bought was better than the original, but still weeped slightly - it's a crap design with the innerds held in with a plate that's rivetted in by squeezing 2 cast in pegs, which can then flex when the tap is operated. In the end I wrapped the joint of the original tap in fuel repair patch and that did the trick.
After getting the bike up and running again, the next job was renewing my CBT, which had run out during the bike's layup. This was done 2 days before the trip, leaving the following day to (among other things) fit the top box and mount that I'd bought several months earlier with the help of my mate John - I didn't have the money for the proper brackets, but we managed to make something up:
In return for this I helped him out with a few teething problems on his 2CV, which although restored several years earlier hadn't really been used: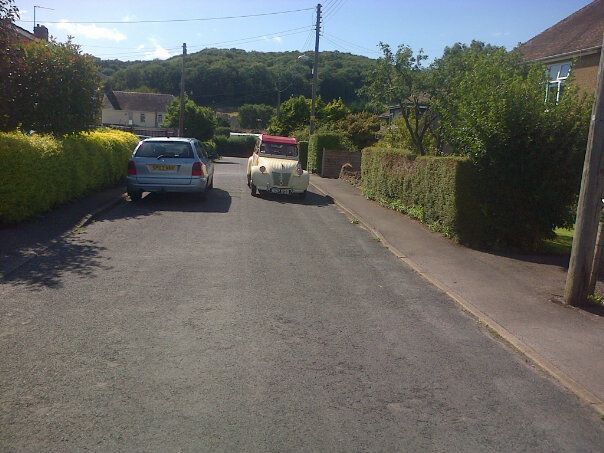 For those who don't know this car, it's a 1956 Slough Built 2CV, which has been rebuilt to as close to as new as possible, including correct upholstry and hood custom made for it!
The following 8 days involved about 600 miles of riding, starting in Dursley, via Pembroke Dock and Rosslare to my parents place in Shinrone, Co Offaly, some local riding there and then back on the same ferry the following week, but on different roads - all on a 125 loaded with camping gear and without the use (even if I wanted to) of motorways!
This was a 19th century warning against drink driving I found: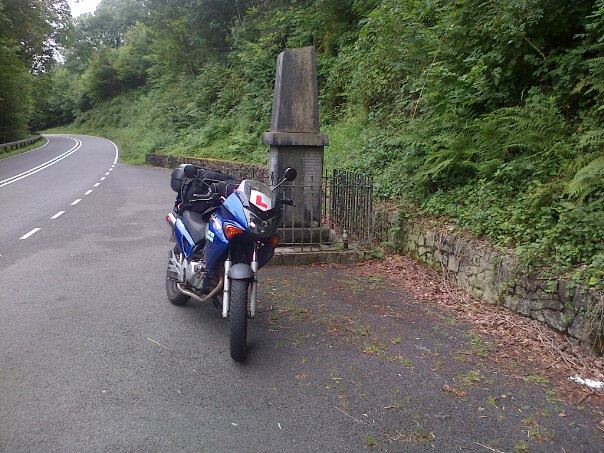 And this is me camping motorbike style!