Well, me and Mark went - it was pretty good and definitely worth supporting. I didn't take my camera I'm afraid so here's a shot of my BX and Mark's spaceship in Morrison's car park in Newark (we really know how to have a good time!) . . .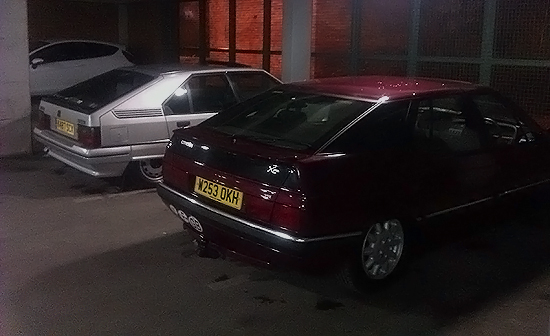 Given that the vast majority of cars were post-2000 the term 'retro' might have been a bit of misnomer, but there were enough things of interest to make it worth the trip up the A1. A little Simca 1000 Rallye2 was a particularly rare sight and the owner was only too happy to regale us with tales of Simca ownership (for a bit longer than we might have liked actually!). There was a good deal of 'MaxPower' knobbery in evidence however. One young man in particular seemed hell bent on melting his tyres and generally trashing the engine of his BMW doing (I think they're called) 'burnouts'. I'm not a violent person, but if I were and had found my self in possession of a firearm, I might have performed one of those summary executions so beloved of the film director Quentin Tarantino. I didn't though, but he got a very stiff talking to from 'Vulgalour' (which he ignored).
Amongst the chief pleasures however was getting to meet the aforementioned 'Vulgalour' (Angel) and see first hand the sterling work he's put in on ol' stripy - it really is quite transformed. Rd27 (Ryan) also bought along his very nice TXD - the one with the pepperpots and the hulahula thingy hanging in the window - aloha! - nice car

Many thanks to Ryan for helping me find my way back to the M1; seeing as I tend to struggle finding my way out of a paper bag I'd probably still be driving round Sheffield at this very moment without his help!

Anyway, all in all a pretty good meet. What it really needed was a few more older cars (that hadn't been 'modded' to death) and a balmy summer evening to make it very pleasant indeed. Good stuff.