Here is a blog about my St Tropez's return to her former glory. I bought my St Tropez in July 2010 from a chap in Darwen for £265, knowing it was going to need sorting out. I'd been looking for a BX14 because of the cheaper road tax but also because I'd previously owned a 1988 BX14 Flight which I'd enjoyed owning.
Obvious point here - buying cars on eBay auctions is a bit of a lottery unless you can eyeball the car beforehand. Darwen was too far away for me to view so I had to rely on the description and any checks I could make. The car had an MOT and came back on checks as a legitimate car. I won the auction but when I saw the car in the flesh, it was clear the seller hadn't been very straight about the rear-end bodywork and it was a lot more crusty than he'd led me to believe.
We did the paperwork and I headed south. In spite of the bodywork, I was quite happy with the way the car drove and she bimbled along in quite a sprightly fashion down the motorway. My happiness evaporated on the Bayswater Road when she overheated. It explained the old coke bottles full of water that the previous owner had stashed behind the front bulkhead and his vague reasons for selling ("Couldn't get on with it").
To cut a long story short, the headgasket was blown and there were a host of other bits that needed fixing. By September, she was roadworthy - skimmed head, welding, water pump and timing belt and a year's MOT. By the following February, I was getting some odd noises from the rear and the rear arm bearings were shot, so they got done, along with a set of new spheres and hydraulic regulator, which had gone.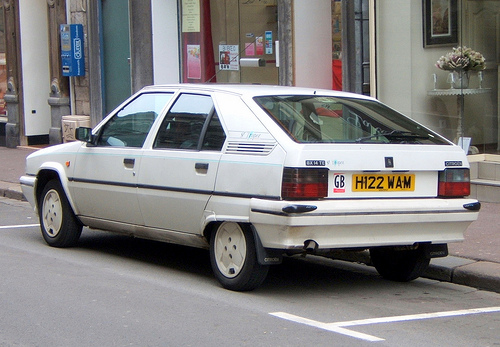 BX with new rear arm bearings on a red wine replen trip at Douai, February 2011
Around the same time, I was lucky enough to source replacement rear wing panels to replace the existing items but decided to wait until I could find a good Citroen-friendly bodywork shop who could do a great job. In any event, the mechanical side of the car was sorted, even if the bodywork was a tad imperfect. In the summer of 2011, I took her on a faultless 2000-mile trip to the Pyrenees for a fortnight. She was fully laden with all the usual paraphenalia for a camping & touring trip and tackled all the steep, twisty bits with dignity and aplomb.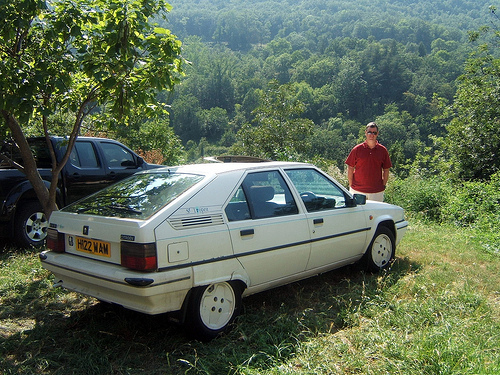 This is a municipal car park, Pyrenees Orientales style.
I was very happy with that performance as you might expect and in September, she passed her MOT without any dramas. The following year, the garage warned me about the dreaded tinworm that was burrowing into the front subframe and inner sills, as well as the more obvious evidence at the back end. Tim Leech came to the rescue with a replacement subframe and I had by then decided to get the whole restoration job done by Rob Moss at Chevronic.
That brings the story more or less up to date. I'm going to post up some photos as the restoration progresses. Rob is posting them on Facebook as well (Mat has all ready been peeking!

), but if you can't be bothered to track that down, all the gory details will be posted here.
There may be a possibility she will be ready in time for the CCC meet this summer.