Hope it's alright to post this here – it's not a BX?
For Sale, My brothers 2.0 Hdi Xantia Estate in silver. 178k, 4 new tyres, new exhaust, new spheres, taxed 'til Oct' MOT 'til December. Very well maintained by Barry over at Bourne Citroen. All up together and drives very well.
It's not going to win any concourse prizes though – it's been strictly a work-horse but a very reliable one. Driver's window doesn't work, there's a rip in the front drivers seat, one or two rust patches are starting to appear around the bottom of the passenger doors, the tow-hook cover is missing (see pic) and there are one or two light marks on the body work but nothing major. Oh and it needs a bloody good clean!
He'd like about 500 quid for it or it'll have to be scrapped after he's reclaimed the good bits – which would be a shame as it's a lovely car to drive. Any interest – he's open to offers. PM me.
Cheers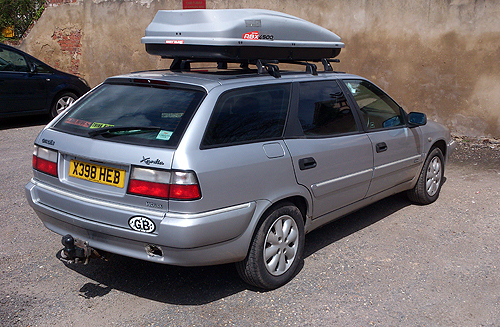 Roof box not included btw.