This is just a tribute!
It never gets washed, its had two oil changes in 30k miles, runs with no fluids and smokes everywhere it goes.
Something both myself and Si are majorly chuffed on....the estate hit the big one last night:
I wanted to make a big deal of this, seeing as the car is never really in the limelight. It's always played second fiddle to both the 16v I have, and the Activa/300ZX/Xsara VTS that Si (Captain Slow) has owned. And the stupid thing is, this car is 100times better than all of them combined. So I've decided to create an essay thread specially for it. It will kill some minutes if you're bored.
Si and myself acquired this car in August 2004. It was advertised on the Citroenz forum by a chap who lived in Sheffield as free of charge, because he didn't want to see it scrapped. It still had MOT and tax though! Nothing really wrong with it, only 172k miles showing was putting people off. We were looking for a workhorse to share between to use to save the 16v and Activa from doing all the dirty jobs, keeping them clean and tidy basically. We rang him and he said it wasn't really worth driving to Sheffield for, its nothing special etc. How wrong could he be?
We get there and it turns out he and his wife had owned the car since new

Thats 15yrs at the time, and in that time it had never once broken down or had to be towed. Not surprising then that she shed many tears when we drove it away...they already had three other BX's between them and were running out of space. Lovely couple too, made us tea and everything. We gave him some money for the fuel that was left in it, about 1/4 of a tank if I remember rightly. Only things that were wrong was some rust on the rear arches on front wing, the heater didn't work and the gear lever was the sloppiest I've ever seen....it had no H gate at all! The clutch had about 5k miles left in it too.
It drove the 200odd mile journey back to Southampton with no issues at all. On our return, we set about fitting the 16v's original alloys which were in my garage. We also fitted the Monza seats and doorcards (with one touch windows!), still in there to this day:
We decided top keep the car going for the 8months until its MOT ran out. We were realistic and knew it probably wouldn't make another one, but we did both want to see it hit 200k miles.
The car also acted as a support vehicle when I met up with Toddman at Santa Pod and attempted to do 1/4 mile runs with a knackered gear linkage. Sure enough it broke on the first run, and coasted to the end of the strip pulling a 23sec time! The estate raced to the other end to meet it and towed it back to the pits.
In the winter of 2004, Si went away to France for the skiing season. I was primarily using the car more at this point, and continued to use it for the next few weeks before I blew the engine in the 16v in January 2005. I was using it right up until July 2005, when Si took it back. I did breifly decide to replace it with a Xantia and pass the car on. I got a Xantia TD, realised it was a pile of shite, sold it and re MOT'd the estate.
In this time it towed this 1ton+ trailer:
Drove back from Redditch with an engine, a gearbox, a cylinder head and many other heavy items in the boot, yet still returned 47mpg:
And severely damged a BMW on Chilworth roundabout....the new 5series cut me up on my way to work and we collided. He had deep scores down both doors, missing trim and big scratches. The estate suffered too

:
When Si took the car over again in July, it continued to provide him awesome service. He managed to drive it into the back of a Land Rover Freelander. Strong as the estate is, it sadly failed to damage said Freelander and in turn bent its own slam panel, cracked the bonnet, smashed both headlamps, cracked the bumper and lost even more trim. The MOT was about to expire and things looked bleak. Talk of calling it a day from Si occured a couple of times, but it was quite obvious we were both hesitating alot! Instead we decided to store the car in a barn while Si took another winter trip to France. It stayed there for 6months or so:
On the day of Si's return, we decided the best thing to do was to go to the pub. We then decided the second best thing to do was to go and see the estate at 11pm in the pitch black with a torch to see if it would start. It did, on the button

A week or so later it failed the MOT....on headlamp aim (courtesy of Freelander), rear seat insecure and a number plate bulb.
Since then it as again been giving excellent service. The clutch is seriously bad now....being the SAME unit that was in it when we got it! 5k miles? 30k miles? Whats the difference?! The rad has started to weep, possibly due to the crash again. But seeing as it rarely has oil or water in it, its not too much of an issue.
The estate proudly made it to the CCC Stratford rally this year too, the first event we've ever taken it to. We use the phrase "made it" like its a surprise, because this car has still never broken down, and both the 16v and the GT we took have done in short spaces of time!
On the convoy there: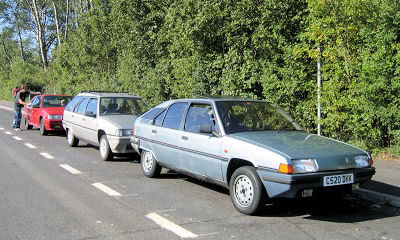 And the big one: (far right)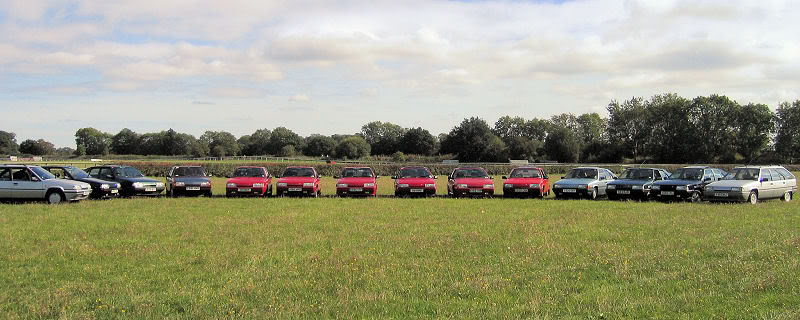 Since then, Si has recently bought a Xsara VTS. With the 16v out of MOT and in pieces, I needed a form of transport last week.....que the estate!
So was really chuffed when I witnessed the big moment last night in Portsmouth. I even got a pic to mark the spot:
Even the massive hole in the NS 1/4 panel is apparent in the dark. You can see the floor through it.
For the future, the estate will be retiring to the barn again. However it will be treated and covered when it is. I'll be buying something a bit more modern to use and Si who technically still owns the car has decided that it will remain as a substitute vehicle, so that when our vehicles let us down, this one can be called upon as we know "let us down" is something this car isn't familiar with.
Then one day in a few years time, when we're both bored and parents etc....we will give it a full restoration. We both figure it'll be pretty rare by then. I'm quite excited now!
Theres no party etc, but if you want to send the estate some cash to congratulate it properly, PM me for an address

Cheers