The covers are made from Aluminium but if anyone wants a plastic look why not go for real plastic ones?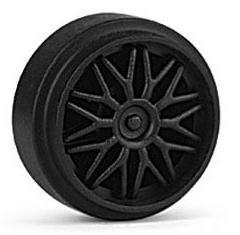 The top one's are full size for real cars! But to make the other ones fit your BX would have to be a Scalextric slot-car! Apparently the people who make these - Slot Italia - take their wheels very seriously
For non-abrasive tracks surfaces such as, Carrera, Scalextric Sport, Scalextric Classic, and SCX. Provides more consistent grip than Silicones on a dusty track.