Hello folks,
my BX is running fine, seems like I did everything right in the end as I changed the belts, waterpump, fluids and filters...
I love this car!
Did my first trip now from Switzerland over France, Luxembourg, Belgium and the Netherlands to Germany and tomorrow I'll head back to Switzerland. Done around 2000km so far and had no problems whatsoever. Hydraulics working well - once I had to drive a bit of very bumpy gravel road and that worked out fine.
The engine is amazing! I can't believe how much drag it provides while still being so economic. Even at 120km/h it still drags well. On a German highway I once did 160km/h (then it started raining) and it still felt comfortable to drive. I fueled up three times, and everytime I had a consumption of 5.3l Diesel with mixed driving including a lot of city and hispeed driving. (That makes 53mpg if I and various calculators aren't mistaken

)
Anyways, as I don't know this car, some things seem odd to me, that's why I have a few basic questions:
1. Everytime the car stood for more then a couple of hours the brakes are squeaking for the first 2-3 brakings. After that, the noise is gone. At first I thought it might just be a little rust on the brake pads from staying outside over night but it really happens everytime even if it only stood for a few hours. What could be causing this? Should I change the brake pads soon?
2. How do these cars normaly rise and fall? If I go from low to high to low with my BX, usually the rear rises first and also drops first. Sometimes the front drops first, and sometimes both sides drop at the same time, but most of the time the rear goes first, especially when rising. How should it behave?
3. What the heck is the upper left gauge good for? It has to do something with oil I suspect but I can't figure it out. It has an oil can symbol and when the ignition key is turned to enable the electrics a white bar with a red end to the left lights up behind the needle. When the engine is turned on, the needle goes all to the left and the bar behind it goes off. It stays like this all the time. In the handbook (which is French) it says something about the needle needing to be "between the two red lines" or something like that. I don't get what it means. I can't post a picture of my own dash as I haven't got the camera cable with me but I found this on the net as a reference. The upper left one: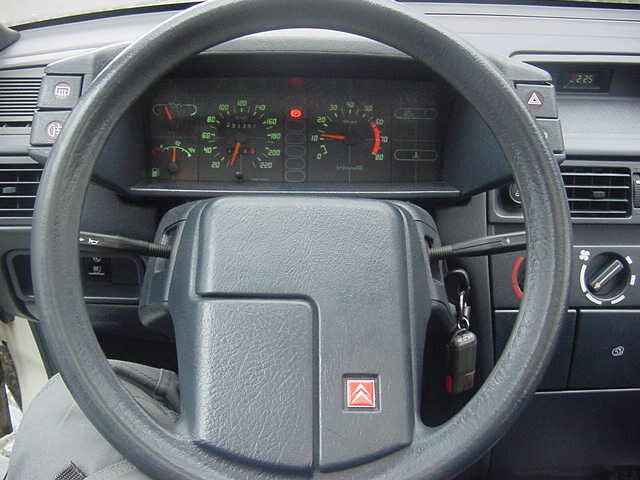 4. How can I operate the rear window wiper without using the washer? I guess I must be stupid but I can't find a button or knob to do that. I always have to press the rear window washer button to the right of the dash to make it wipe the window once. Isn't there an interval timer or something like that?
Great car anyways

Hope it will stay the way it is for a while...
Regards,
Carl