Well although I technically no longer own it, I do know that if the current owner decides to get shot of it as its in the way (which it really isn't!) I'll not let it go for scrap, so it's future is at least secure. If my new place offers more room than I currently have, I'll hopefully find a way to re-home the beast.
Not a blog as such, more a story and progress on the best BX, or in fact best car I've ever owned.
Cast back to 2004. In June I'd just picked up my 16v, after a long time coming! The following July I picked up an AX GT project car. Then, in August myself and Si (formally Amazon Activa of this forum) decided that what we needed was a cheap diesel runaround to share, and save ourselves some money on a part time basis....one month on, one off etc.
My parent's house would frequently look like a Citroen dumping ground: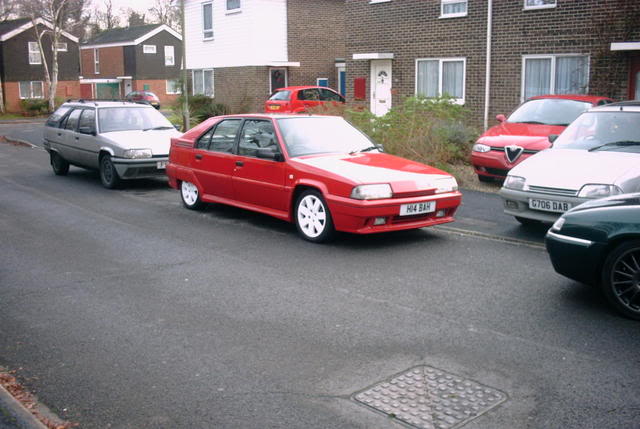 The 16v and the Xantia Activa which myself and Si owned respectively were costing alot to run, it we decided it would be nice to be able to save money, while driving a car we didn't really need to worry about. It didn't matter where we parked it at night, or if it picked up a ding. It was a tool, and tool's are cool!
The beast itself was a 1989 19RD estate with the later type XUD9 engine, non turbo. It had covered 172k miles which at the time we thought was high, but we had no idea just how easily this thing would tackle the miles. The guy we acquired it from FOR FREE! had owned it from new and covered all the miles himself in and around Sheffield. It came with what is probably the sweetest sounding and well maintained XUD lump I've ever heard:
I liked the car so much I treated it to the Speedlines I had (foolishly) removed from my own 16v: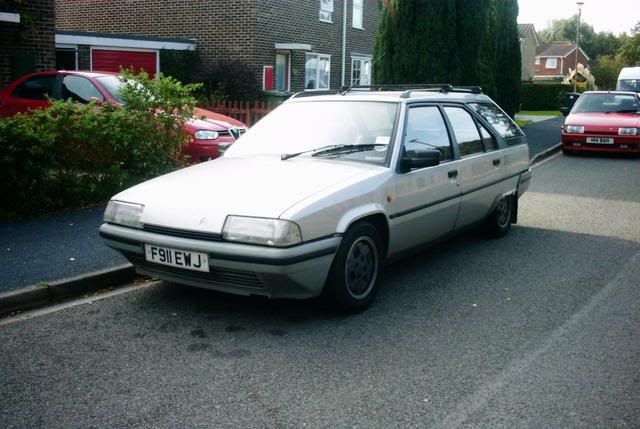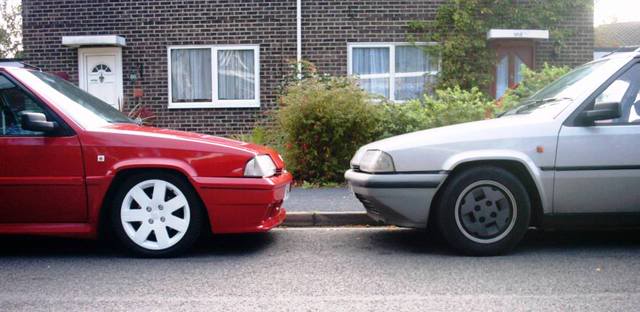 I also fitted the car with computer controlled Activa suspension from a Xantia, to reduce roll to les than one degree:
(it wasn't just a badge)
Next, in December '04 I fitted leather to my 16v and as a result my original Monza interior was going spare: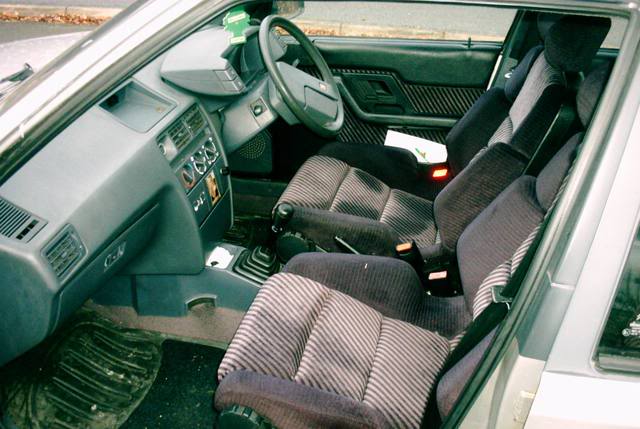 We also rather brutishly fitted some In Car Entertainment with some Alpine speakers that cost 100% more than the car (just assume the car cost a quid!)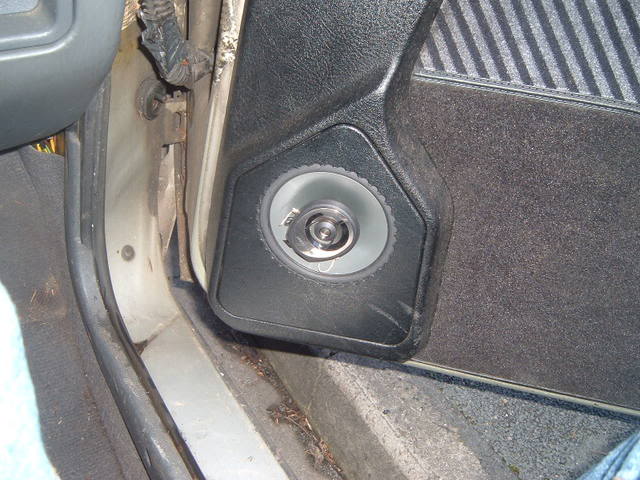 For the next year or so the car did indeed provide the transport we had hoped, and also undertook many tasks including: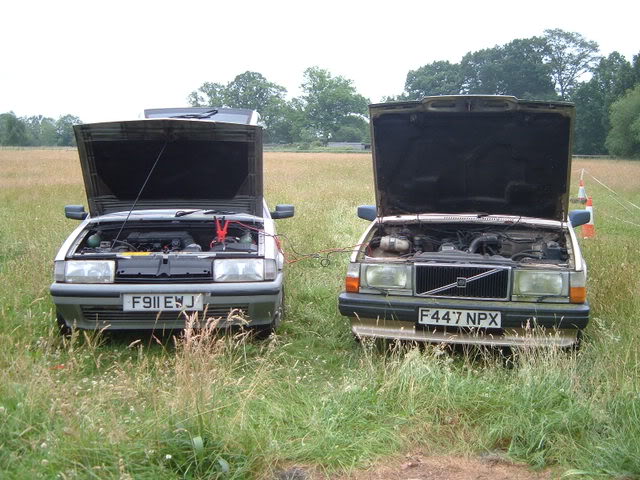 Getting cars that are supposed to be bomb-proof to start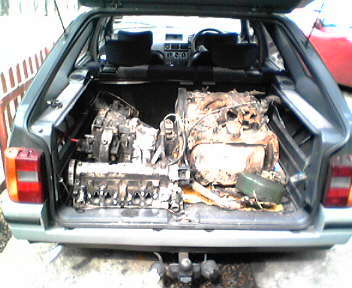 Bringing an engine, a gearbox, and interior, a cylinder head and some suspension legs back from brum in the boot while achieving 53mpg: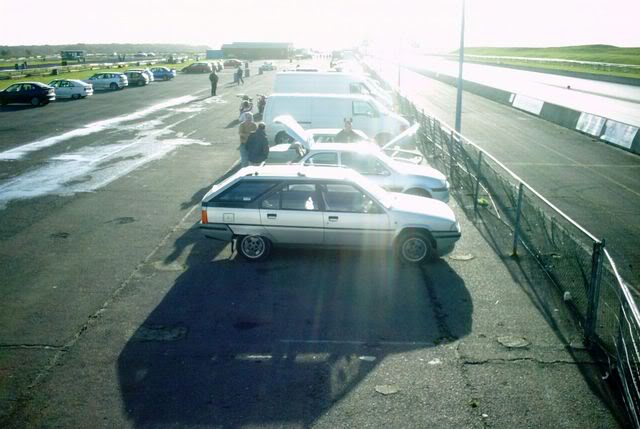 Provided support as a back-up vehicle to the valver at pod (which ironically it did actually need!)
And got me tugged by the fuzz and into all sorts of nitty gritty law issues with this 'trailer':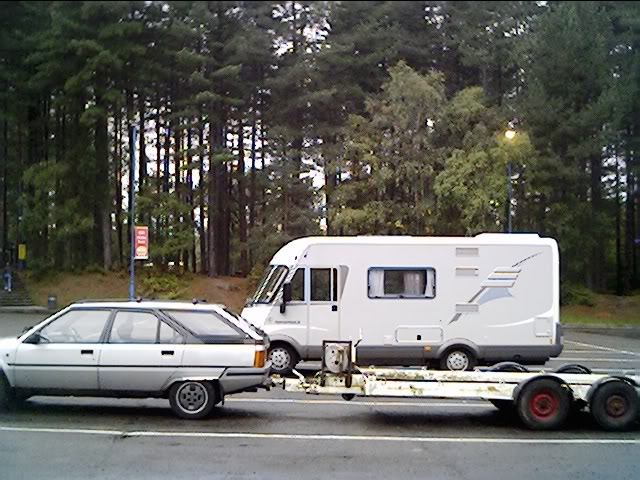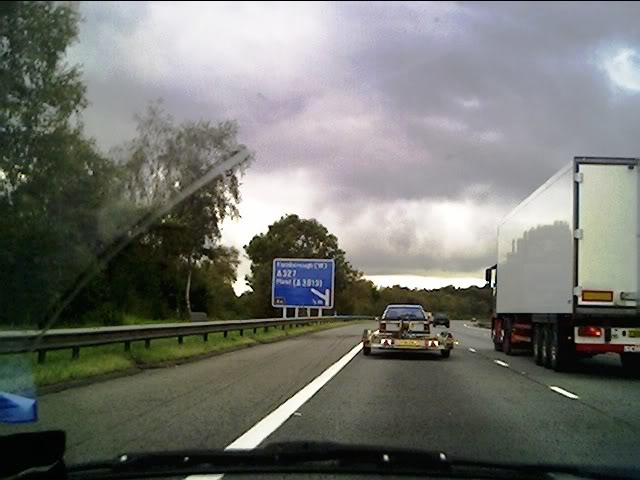 In winter 2005, Si travelled to France to do skiing or some shit like that, and the MOT expired on the estate. Fancying a change and a derv that I could call my own (as we shared the estate), I bought a Xantia TD to replace it with....which was rubbish.
In 2006 I MOT'd the estate, having fitted new rear calipers and discs/pads, welding up the A-Pillar so the drivers door didn't fall off when you opened it (in front of lots of people at West Quay). Due to the money I pumped into it, I kept the car until my AX GT was returned to me by a girlfriend I had broken up with....seems the car I'd given her reminded her of me!
Si returned and took full ownership of the estate, paying me for the MOT and some tax. I ran the AX GT around before selling it in order to....can't remember what, think it was a lack of space or some such. By now the estate had had the Activa system removed and had been fitted with Teves ABS and some spankly new alloys that were found in a tip: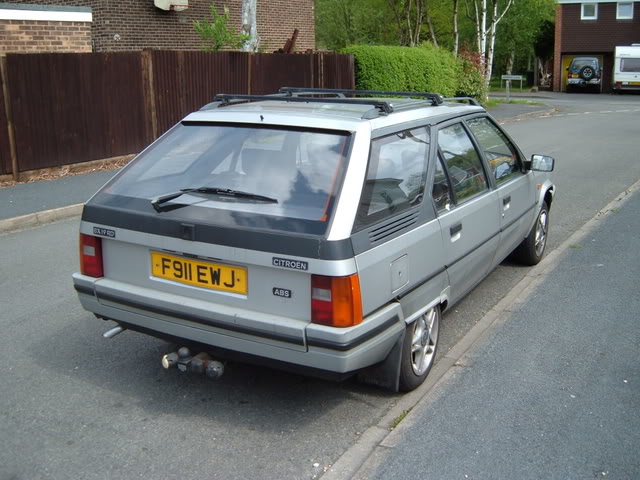 The car was also involved in a run-in with a BMW 5-series in Southampton. The BMW came off very badly as he tried to cut across the nearside of my car, on the outer lane of a roundabout! The estate faired pretty well: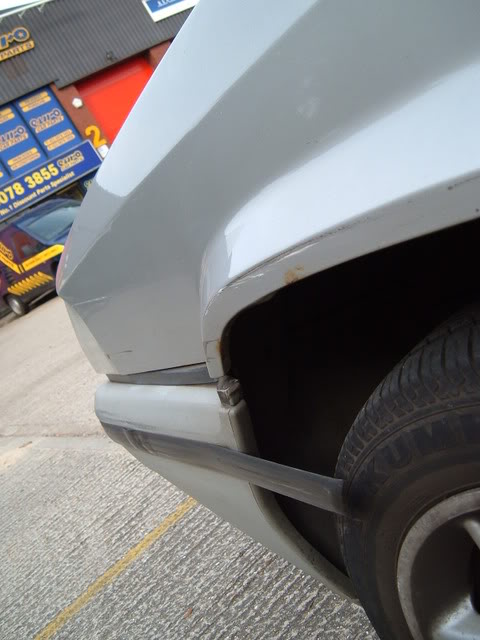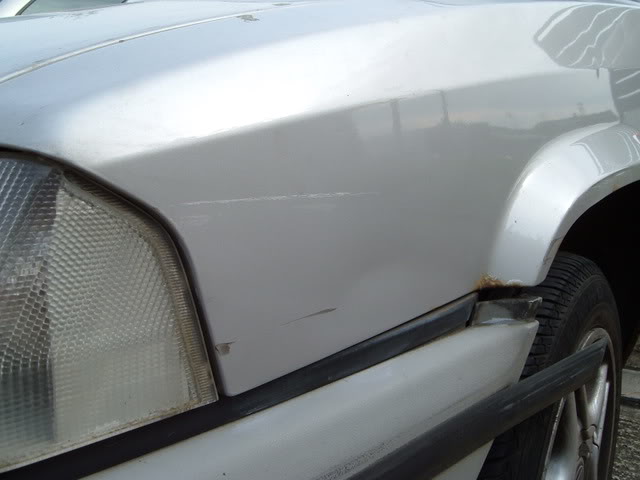 Si then went one better and drove the car into the back of a Land Rover Freelander at around 10mph. He bent the front panel, smashed the lights, cracked the bonnet and generally caused a headache for the car. He then went to France and left the car in the barn it now resides, but only for 8months this time.
On his return, we ventured to the barn at 11pm, fairly
and armed with a fresh battery. The aim? The estate has NEVER failed to start on the first turn of the key in our ownership. Can it do the same after 8months in the cold??
It did!!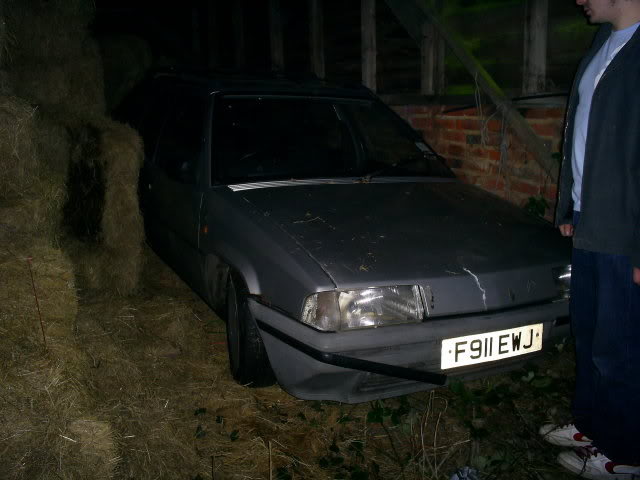 Its not running there, but you get the idea
Si decided to go and buy something silly for a while, a Nissan 300ZX Twin Turbo. Nice to drive, dull as beige. In this time I needed the car and it was lent to me. We returned the car to the road with advisorys on seat belts in the rear, headlamp aim (due to crash) and a side lamp bulb!
In this time, it hit the jackpot, in Portsmouth one night: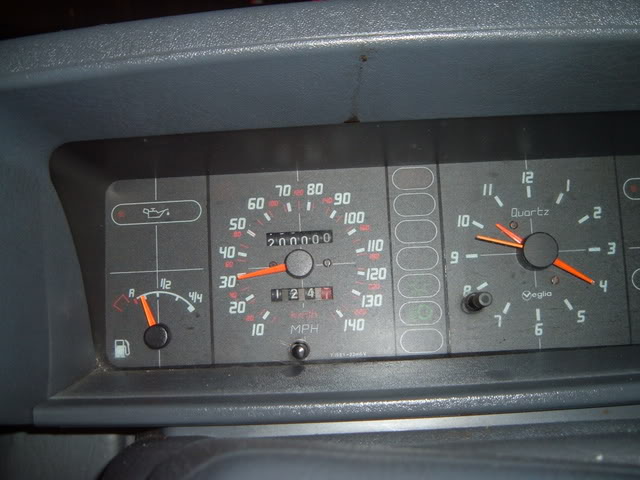 It was only later that night I found I'd managed to be driving around with no coolant AND oil (reading on the dipstick). A new dumb record for me!
Then Nat (my girlfriend) and I had planned to go away for New Years to some remote part of Devon/Cornwall. I had lined up the Rover Coupe I had at the time to get us tehre and back, but it K-Series'd on me and I had to call the estate into service once more, now with a VERY tired clutch and release bearing that sounded like a can full of ball bearings with the clutch up (still does!) To put the car into reverse required switching it off, then on again.
It did the trip without fail, including trail by 1 in 4 hills, floods, sheep and Bridport: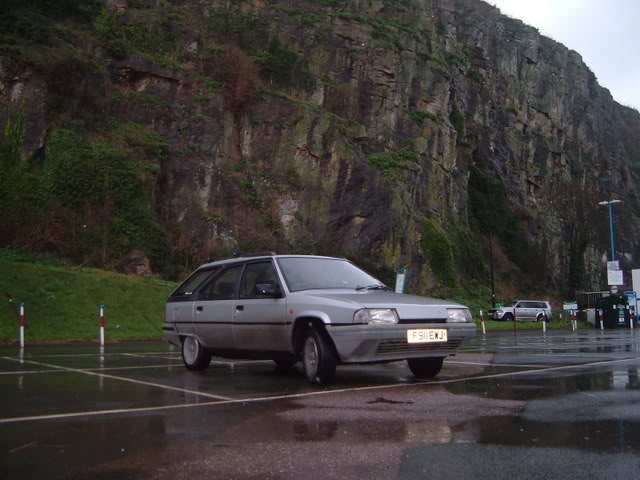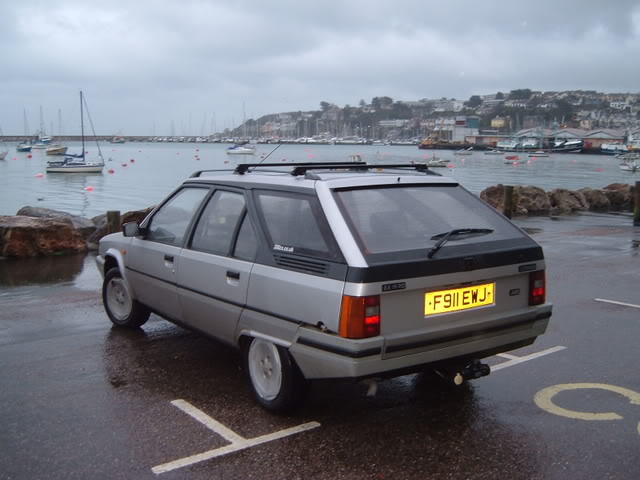 It also got us over Exmoor: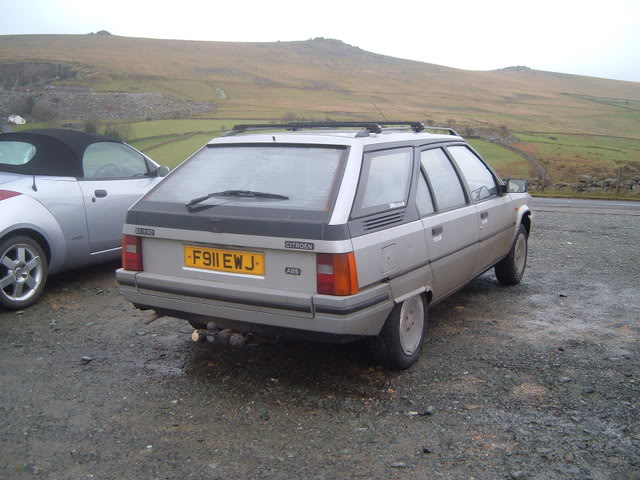 Although wearing it's spangley new ZX Avantage wheel trims and wheels with 175 (yes, that's a uber wide 175!) section tyres, the car was looking tired. The front end looked like it had been chinned, there was a hole in the N/S/R quarter half a foot across, the door was dropping again and rust was setting in on the front wings and drivers door. God knows what it's like underneath!
Sadly, Si retired the estate to the barn on the expiry of the MOT and the purchase of his new Xsara VTS, which has since departed. This was two years ago.