rutter123 wrote:John i have engine rubber pipes if you need, inc heater, breathers, turbo etc but no top or bottom rad hoses. I dont know if they will tally up with your Rover lump or not.
hmm they should do, most of the stuff from the bx's original engine is now on this newer engine. i am just in the process of saving up some cash to buy the pipe kit. should have enough by friday.. tomorrow! set the pipes a side as i know the intake pipes on the BX were also split and the boost hose also had a hole in it.. i think.. the one that went over the cam belt side of the engine. let me know how much for them and ill send the funds when i have them!
anyway, work done today:
managed to get the gator on the steering rack.. wow what a job that was! i was having to stand where the engine was so i could get enough pressure on it to push it over the mount for the hydraulic power steering actuator. damn! i wonder why they did not just make it a bolt.. really interestingly designed that one.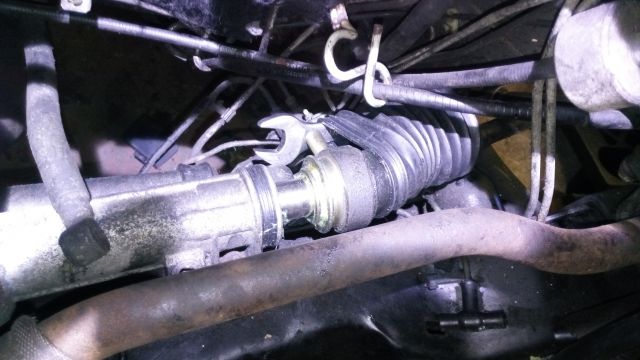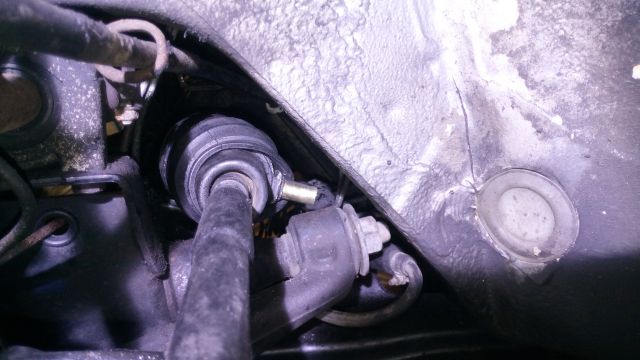 i am concerned as to how much the gator is crushed when you turn to full lock.. this cant be right surely? the gator is on the maximum amount of stretch when the steering is turned the other way. both of the gators i have are like this. one was a cheap one, the other is one i bought (for a damn lot of money) that sad it would fit the BX with power steering.... i cant see this lasting very long...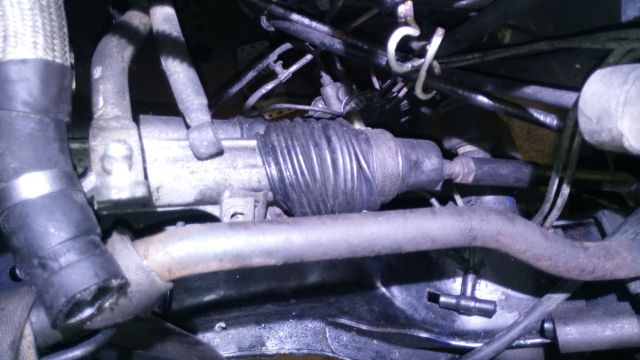 so remember that rust issue i had? well i managed to get a welder i can leave at work. (though its not been used for many years and all rusted up).
i decided to get the cutting disc on it and take off the first skin to see how it was on the underside.
hmm yeah it was to be expected i guess. its not much of a problem..
cut out the worst..
make a plate the same size (or close enough) as the hole.. (even managed to find some replacement steel the same thickness!)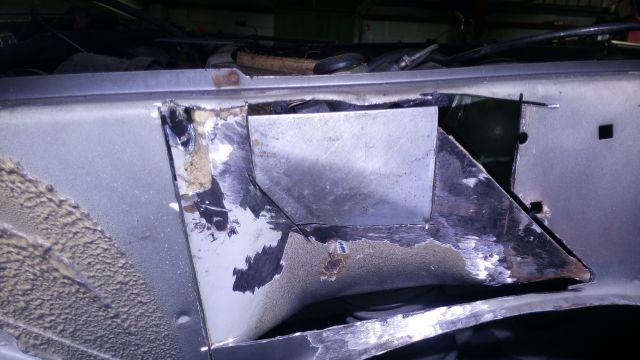 and after taking ages to set up the new welder (spitting and not welding good) i eventually got it to weld nice and welded a new bit in..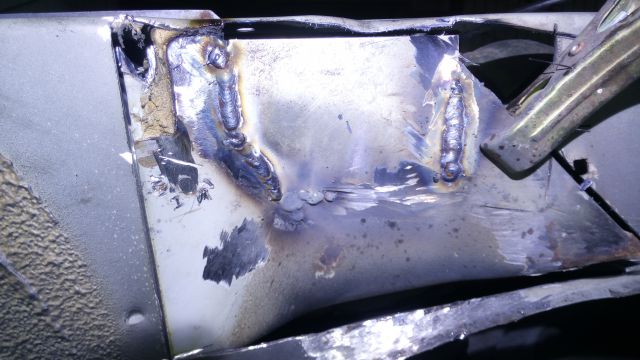 rather than spot welds i am going to plug weld it. (as i do not have a spot welder)
after a bit of a clean up it should be OK... some paint then under seal it should not rot out again.. ever! i just need to do the same with the under side (bit under the washer bottle).
lets see what tomorrow brings!