So here is the belated and (most likely) final instalment in the Terrano monologues…
This summer I was determined to get down to the Pyrenees in two days to max out sunshine time. I was also keen to avoid the mayhem at Calais that I got involved in on the way back from the CCC2015 and in view of the ongoing disruption there I wasn't prepared to risk that brand of misery again. The ideal was an overnight crossing to give a full day's drive but I wasn't prepared to pay the silly money Brittany Ferries ask for peak season crossings. That left the Newhaven-Dieppe route operated by DFDS/Transmanche Ferries at a much more reasonable price. I've heard less than favourable reports of this route, but after a bit of research that suggested it wasn't as bad as some had painted it, I decided it was worth a punt.
We made a promising start, driving down to Newhaven on Sunday evening and joined the queue for the ferry. I was pleased to see a black DS21 from Austria in the next row (Sorry, no photos). Loading started early – none of the last-minute rush that typifies Dover crossings – and we got straight on the boat, got our key and went to our cabin with the intent to get the maximum amount of sleep. All seemed to be going to plan and I was just nodding off when the ship got into the Channel and the swell started someone's car alarm. This was more than slightly audible from the cabin deck and it kept going off every couple of minutes. Eventually it stopped, so that means it got calmer or the battery went flat.
Monday 24th August
- got off the ferry just after 5am – still dark and judging by the damp roads it had been raining. Pushed on a few miles towards Rouen, and there were some more light showers, followed by heavier ones, more wind and just as we exited Rouen a huge deluge, to the extent that the back end let go. When it happened a second time slowing down to allow room for an artic coming down a ramp on to the slow lane, it was getting quite annoying and given the conditions, a little bit scary. Soon after I pulled over and switched to four-wheel drive.
Eventually daylight arrived and I had to remind myself it was still August. It felt like November. The wind was getting worse and although the rain stopped, it was replaced by some unpleasant squalls. South of Chartres we thought we'd earned the right to stop for a coffee!
From there, we headed for Blois, Chateaudun and Vatan, aiming for the A20. Uncharacteristically, some nifty forward planning saw us with a full tank of gas and the ingredients for our picnic lunch. If anything the wind was even stronger and any thought of a pleasant baguette in the summer sunshine was quickly shattered. Lunch was consumed inside the car, a pastime enlivened by watching a significant proportion of French travellers pretending everything was normal. The term
sang froid
is usually levelled (with some justification) at the Brits, but I reckon the French must have invented the concept to described themselves.
‹‹Vent violent? C'est France en Août… Désolé, mais c'est impossible!››
(Strong winds, it's France in August... Sorry, but it's impossible)
The tension created by such denial leads me to offer the following damning evidence:
Exhibit A
– French lady gets out of car with shopping bag on head in valiant but ultimately forlorn hope of preserving carefully coiffeured hair. Having established the futility of this strategy (not to mention looking quite foolish) she dispensed with the shopping bag and wanders around in wind speeds only slightly lower than hurricane force trying to put her hair up. This is not successful, so she reluctantly takes shelter in the toilets to complete the process.
Exhibit B
– Service station employee in orange overalls with dustpan and broom wandering around looking for rubbish. Get real - it's a Force 9 gale, mate. If you see any litter, it will have blown halfway to Limoges before you get close enough to sweep it up.
There were less humorous examples that demonstrated rank stupidity transcends national stereotypes; why would anyone think it was sensible to drive a car with trailer or caravan at 130km/h in a ferocious cross-wind while simultaneously being bombarded with the shrapnel of disintegrating trees?
The further south we went, the better the weather got. I have a theory that France is climatically divided by an east-west line somewhere near Limoges which I call 'The Hot Line'. Several decades of personal empirical observation supports this model, and while meteorologists may take issue with it, I have yet to be disappointed. True to form, we arrived in Brive just before 4pm, the sun was shining and the wind had moderated to a light breeze. The end of first day left me feeling pretty tired but we had done well - 415 miles covered in 10½ hours through some pretty atrocious weather.
The following day was a complete contrast and normal service had been resumed. We picked up the old N20 (now the D820) south of Brive and pottered through the Limousin countryside, past Cahors, down to Caussade and cross-country (gorgeous Gaillac terroir) to Mazamet. The route is now very familiar to us but never ceases to impress, climbing into the Montagne Noire and down the gentle scarp into Carcassonne. From there, it's a short drive to Limoux and Quillan, (well known to the CCC 2015 participants) through the gorge at Axat and east along the D117.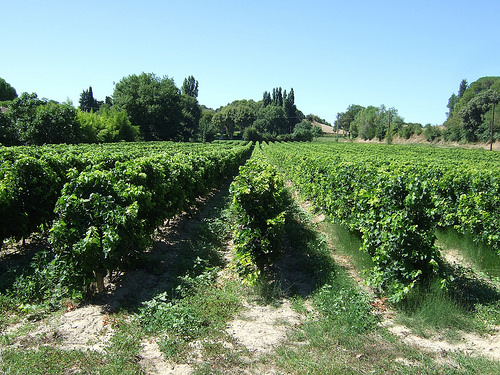 Vignobles de Carcassonne
Not wanting to waste the opportunity of some twisty bits, we turned right at St Paul de Fenouillet and took the mountain road through Sournia and on into the Conflent valley at Ille-sur-Têt. 4WD was engaged again, but mainly to placate the passenger!
Pyrenees Orientales looking west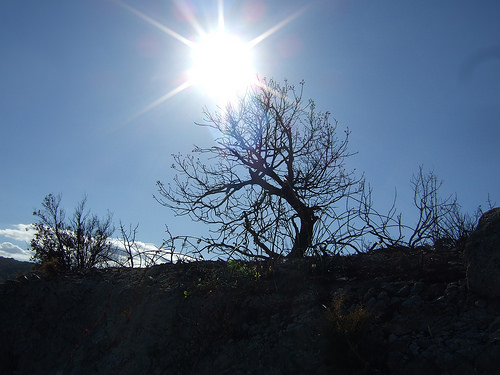 After the fire...
There's stacks to see and do in the area; trips up-valley to Villefranche and the Cerdagne, across to the Vallespir to see Ceret and down to the beaches north and south of Perpignan. We did some of that, interspersed with some domestic chores and quite a bit of wine-tasting. All good stuff.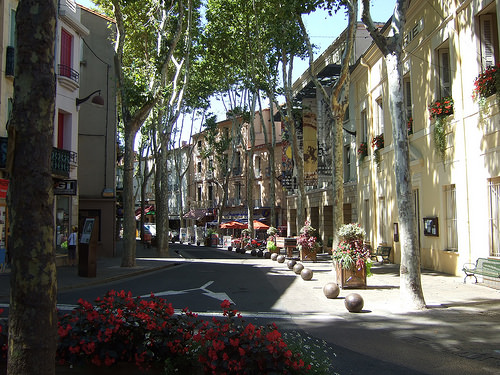 The Museum of Modern Art, Ceret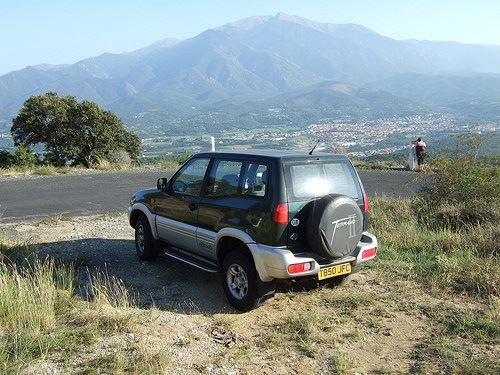 Terrano and Mont Canigou
I won't bore you with the return leg. It was very pleasant but largely undemanding and not a bit like the dramas of the first day out of Dieppe. There was, however, a faint whiff of diesel floating in the air on the second day and a growing sense of déjà vu. True to form, the Terrano was giving way to a bout of incontinence again, but happily she managed to hang on until getting home before depositing a little puddle on the drive. A quick visit to the garage had a fresh set of leak-off pipes to replace the originals that were slowly perishing.
This looks like the swansong for the Terrano. I can't really justify a big 4WD when I spend most of my time trundling round London and the home counties and I'm unlikely to repeat the Moroccan-style adventure again. She's up for sale and my new daily driver is going to be...