Given my recent forum outage, I thought I'd be sociable and chat about recent events, although I wouldn't blame anyone for being remotely interested!
So since early March, there have been quite a few changes going on. Firstly we moved house, which meant for me, leaving the SO postcode for the first time! I'm now PO, which has been the basis of some piss taking at work, given Southampton and Portsmouth's rivalry!
From Winchester we moved to a bungalow in a large(ish) village called Stubbington, which is next door to Gosport and in the Fareham area of Hampshire.
Here:
(with space for 5 cars off the road, unlike the previous 2, so I'm happy!)
Nothing happens here, and thats how I like it! It's got an airfield, the beach is nearby (although it's mainly rocks and broken glass) and theres even a hovercraft nearby! I think it'll be a good area to raise the boys once they're here.
Ah yeah, the boys. Identical twins Still a shock when I think about it! Nat's now 30weeks along, or just under 7 months. But identical twins never go the full 9 months (lack of space being the major factor), 8 months being the ideal time to deliver. However, they can actually request to get out anytime from 28wks onwards!

So far everything is as it should be thankfully, and the docs are happy with their development. I'm bricking myself that something will be wrong with them once they arrive, but I guess that's natural. We get a scan every two weeks, and a consultant meeting every four. Different types of twins do differ, and some need to be scanned every week, with non-identicals a lower risk and needing only one every four. We did get a brief go at a 4d scan though, which was amazing, they look like this:
(thats not mine, we weren't supposed to even get one, you normally have to pay!)
I'm not unprepared for them though, the nursery is well underway (well one corner of it:)
We've got their car seats, which are red to match the valver! Bit silly, as I'll only be using the valver until August 31st! And come August 31st, they'll visit their first car show. They'll be bored stiff no doubt, and totally unaware of whats going on. Probably asleep in fact. But theres a local one in Gosport that's not too big which we went to last year and I think it'd be ideal to pop down in the BX on it's last day of service until next year.
So, BX's.....whats happened there? Well, I still have two red valvers, although it's fair to say neither are looking all that good!
BAH is still sporting the dented wing that it picked up in storage last time and the paint is getting more pink by the day!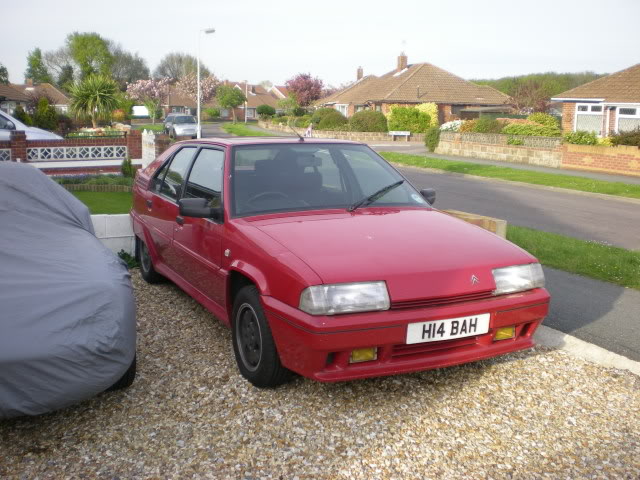 (trust me, the cameras being kind!)
However mechanically it's actually better. The tapping engine did infact turn out to be the bent valve I'd suspected. I bought another head for £25 as spares, as the casting itself was cream-crackered. I used the valves from it and rebuilt the thing with new seals and gaskets etc, just a general de-coke. And hey presto, tapping gone! It's lasted since 2005 with a bent inlet valve, so I'm impressed.
I also sold the leather to Mat, and to be honest I was worried I'd done the wrong thing, but smell as barn aside, I'm loving having the valver seats back: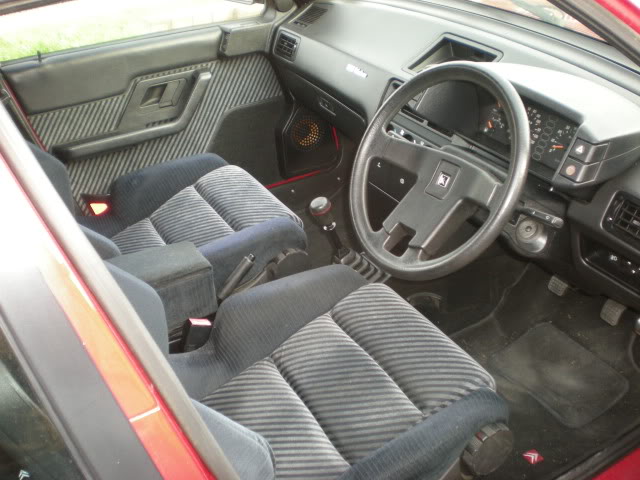 They just work so much better in that car. You're a bit more pinned in place and lower slung. I've come to the conclusion that having the leather in a valver is like putting Escort Ghia leather seats in an RS Turbo. They're both good, but for different things.
Tracking's still out mind, but with a new set of Toyo Proxes fitted (came in at less than £70 the pair, and they're V rated) it drives 100times better. PAS is still holding up though

And the pink one? Well I got it at the last house, then moved it here via an MOT. It failed on 3 pages of red headed paper! It's been sat here since, with a lack of time and so much to sort being the key reasons, but yesterday I moved it into my new garage (which is old, dangerous and roofed with asbestos - nice!) and began assessing it. I do think it's a go-er. It needs alot of work, but I've got a few spares from the last car and some of my own left over than might put it right. Then hopefully I can tidy it up, and find it a new home. Did think about keeping it, and having one turned and one original but it's just not practical. The plan is to make it a nice example, not just an MOT'd one and price it out of the reach of the 205 brigade. If an engine seeker offered me £800 for it, I'd sooner sell it for less to someone who truly wanted one but had tighter funding. As it stands, it's worth very little but with a few weeks of work I think it's got potential. It'll never be a show winner without some paint IMO, but hopefully I can get it close.
Yesterday was good though. Got the heater working properly, the sunroof now works and the remote locking (with original plip!!) is also working. Today I'm hoping to get the CV boots changed, fit new strut return hoses, change the accumulator and sort the leak from the ram. Then at least I can start it and move it without it ruining the new driveway!
Some pics from yesterday:
And the door....think it'll polish out?
Thats it so far. Hopefully I'll have more to report back with later. Man-flu is never good to work with, and I've had it 3 times this year now!
On the side, a big thanks to Mat Fenwick, who's gone to the trouble of finding a new door for me, and sourced a new crossbox. I need to get up to him and give him some money!

Cheers