If we're all honest, being a bit of a nut about BXs is something the majority of petrolheads fail to understand. The BX still falls on to the 'wanky' car radar, even if in fairness, they were actually pretty good.
I'm 29 now, but I've been into them since I was a kid. When you're a 13yr old in secondary school, trying to explain why you wanted a BX 16v over an Impreza Turbo is like trying to convince people Margret Thatcher is better looking than Kelly Brook!
And when I was having a bit of a house clear-up the other day, I found a picture that brought it all back....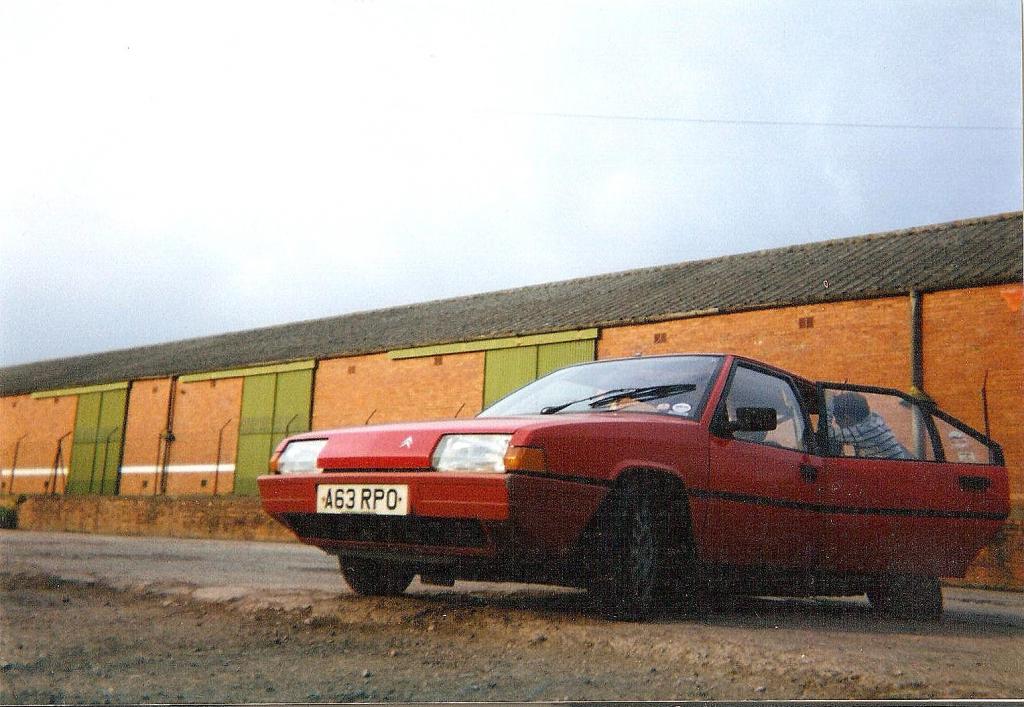 A63 RPO....my Dad's BX 16TRS. I couldn't tell you why, but that car to me was a hero! I was insanely fond of it. He got it in (I think) 1989. It was a 1983 model...I can't remember the exactly sum of money that changed hands for it, but I think it was around £3,000. I would have been 6 or 7 years old at the time. He used to have an Opel Kadett (basically a mk1 Astra with round headlamps) which, along with all the cars before it he didn't really like. We had a crash in the Opel, and though it wasn't written off he sold it and decided he wanted a Citroen BX. I remember him telling me I was going to like it, because when you start the engine the seats go up.
Imagine my displeasure at finding out that when you start the engine, the actual car goes up, not the seats. Seems my Dad's dumbing-down of the hydropneumatic system wasn't required for this geek!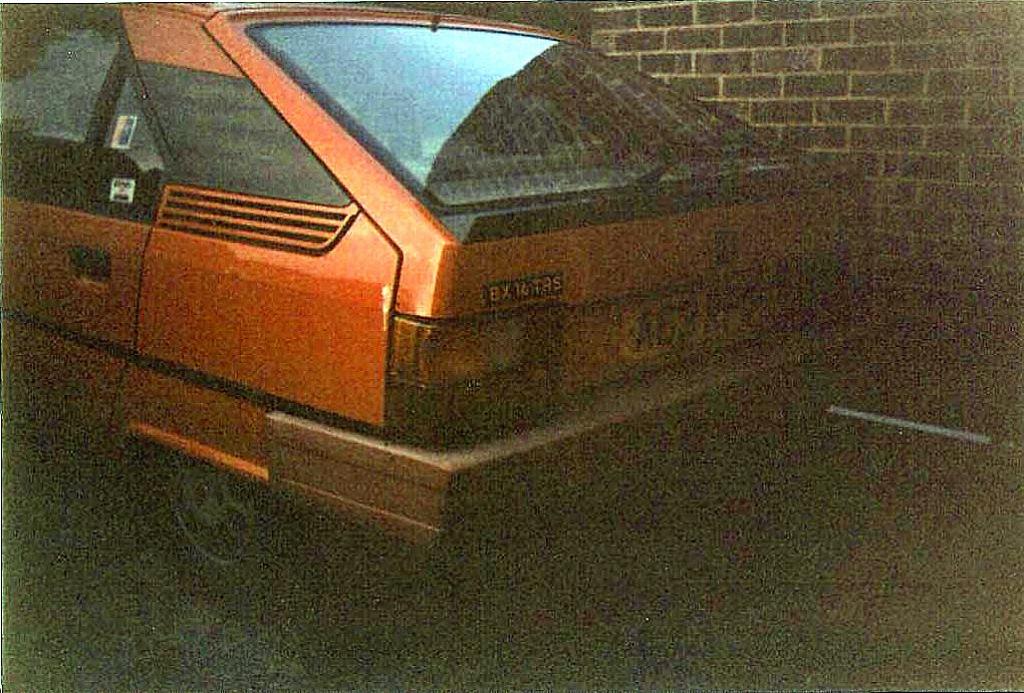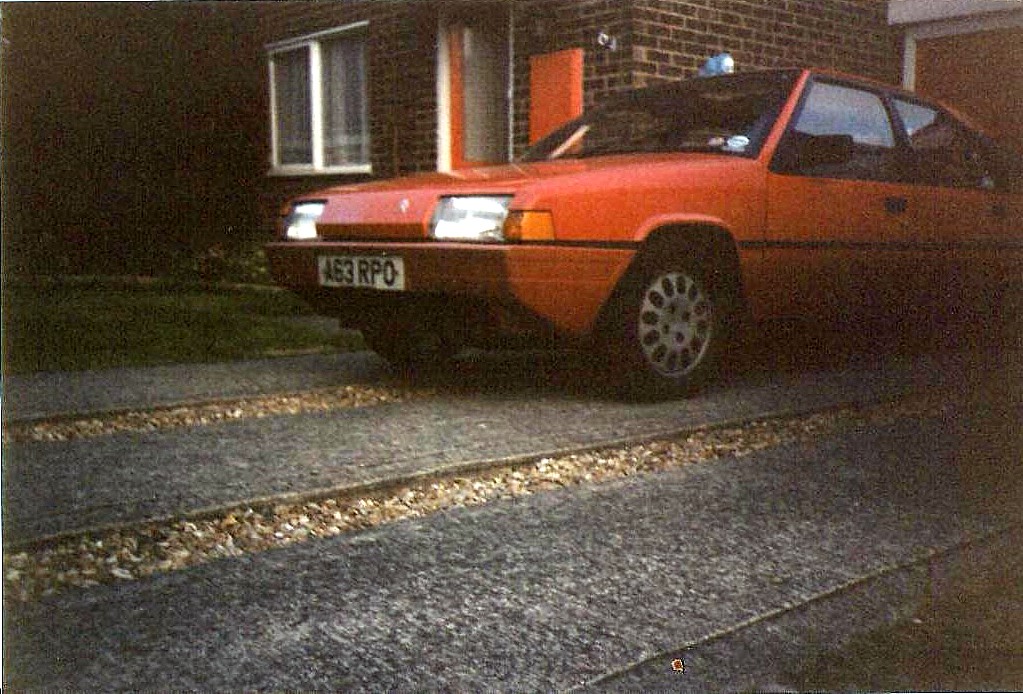 Aside from the odd clutch cable gremlin (and randomly fading red panels) It provided stirling service for the next 5 years until the unthinkable happened in Autumn 1994.....a nurse in a mk4 Escort smashed into the back of it in Southampton. I was off school ill that day (SCIVEitus if I remember correctly) when I looked out the window at about (10:00am to see the BX on the back of a low loader outside. I went downstairs to see what had happened as my Dad got in and he told me he'd had a car accident. I ran outside to the front of the car while the guy was still unloading it to see no damage. "No, it's at the back" my Dad said. But the back didn't look damaged either! Then I noticed the towbar (which it came with, but we never used) looked a bit off-centre, before then noticing that it was hard up against the bumper. The guy reversed it off the transporter and parked it outside on the road. I was only a kid, so immediately thought it didn't look bad. But then my Dad showed me that the boot was stuck shut, because the rear bumper had pinned it there. The rear doors also wouldn't open, though we did later manage to get them open with some brute force; the 1/4 panels were pinning them tight. When I climbed in to the back I noticed the rear seat backrest wouldn't stay latched and the boot floor had what looked like a mountain in it.
The insurance assessor came to see it. Again, it didn't occur to me that it was worth not a lot here. He found out the car was a few inches shorter than it was supposed to be! I'm not sure what catagory write-off it was, but I'm guessing a B (I keep telling myself that, because these days I could have fixed it!) I was gutted!
However, just to prolong the pain (though it was fun at the time) my Dad had a couple of months-long argument with the insurance company about the value of the car, which meant it sat on our driveway for ages as a car to play in! My Dad then bought an XM 2.0 Si (another really early version) and the BX waited.
The night before it was due to be collected for scrap, me and a couple of friends were messing about in it and for some reason we pushed it forwards up the drive. For reasons I'm still to this day unsure of, I turned the steering and (because the car was no longer running and stuck on very very low) it got beeched straddling the driveway and garden. We couldn't shift it! That night it had the driveway (and garden) to itself and the XM (which was already in disgrace....I remember we'd only had it a month and my Dad wished it would get written off parked on the road) was reduced to leaning against the kerb.
The day came - again I was off school with a similar illness. I waited by the window. A HUGE car transporter arrived with two burly blokes. My Dad had gone to work, leaving just my Mum and me. She knew the score....she knew why I was off.
The door knocked, the guys did the paperwork and then looked at it puzzled wondering why it was beeched across the driveway & garden! They managed to heeve-ho it off again before pushing it onto the road (it grounded out another 2 or 3 times, just to make its point) before it was winched onto the transporter. It got stuck being pulled up the bed too, which was resolved by one of the guys beating the hell out of it underneath to bend whatever was jamming it out of the way. Today I know it was no big deal, but back then it was killing me! I don't mind admitting I sobbed like a little girl (embarrassing seeing as I was 11) watching it get taken away. The two burly guys probably wondered what the hell was wrong with me! I watched it drive round the corner, reversed on the end of the top deck (so it looked longingly at you for help), then sprinted upstairs to catch it going from my Mum & Dad's bedroom window at the rear of the house (we lived next to a 90 degree bend). I saw it drive past the black ph2 H reg BX 16v (the car that made me want a 16v) at the entrance to our estate, before turning onto the main road and disappearing forever. I think it went to a breakers in Taunton, or Bristol. Or something.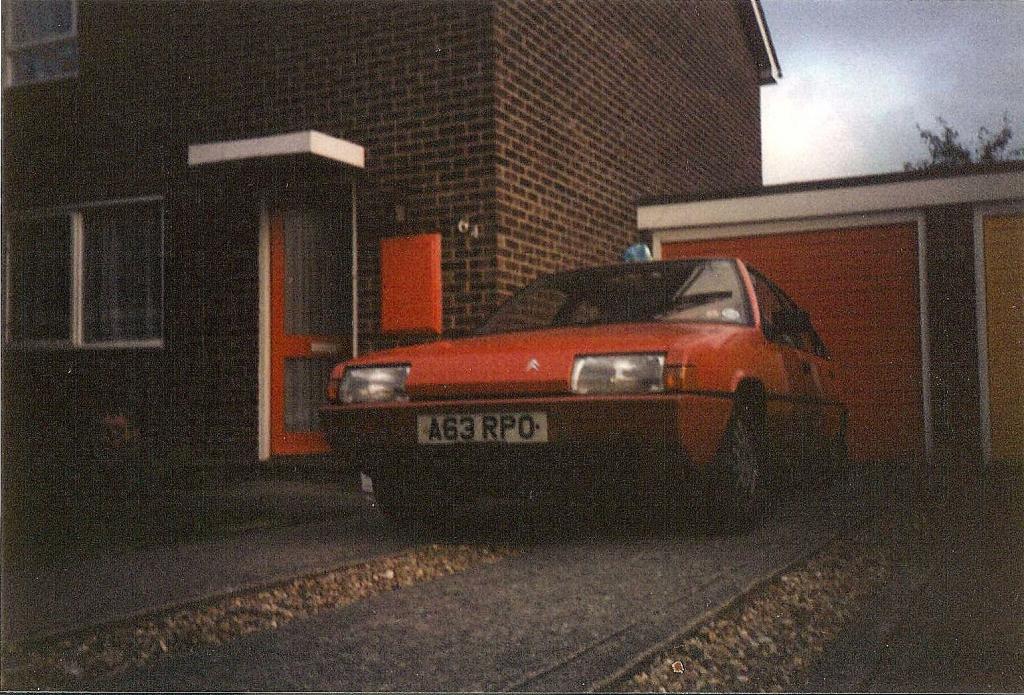 I've owned 10 BXs since then, but that was the one. I'd give anything to have that car back. I probably have had it since.....I eat baked beans afterall!
It just all got me thinking about what kicked off the obsession with the weird French car