Hello everyone,
I'm still here rockin in the free world. I just got my yellow BX through its latest TÜV ( road test) which means I've got two more years' licence to BX. It just needed a front caliper and the usual welding around the rear arches.
I continue to clear my cache/stash as I've decided to keep only my yellow BX. I am breaking my Mk.1 TRD at the moment which turned out to be quite shot in all the familiar places but has given up many good parts.
If anyone is looking for Mk.1 specific items let me know
I can post small items but larger stuff not as that small strip of water between Calais and Dover proves an expensive obstacle
Also, I'm selling my 'red rat' 16v as, after six years, I've just got to face the fact that I'm never going to get round to sorting it out. So I'm also clearing 16v items.
I will be adding things like the German only 'Swift 2' BX alloys and rear window louvres later as, if there is sufficient interest, I can bring these to Uk later in the month.
This is the current 'to clear' inventory. Just make me an offer if you want anything, best offer secures plus postage :
1.
'Sev Marchal' fog-lights for Mk.1 BX.
Very rare. These were original Citroen BX Mk.1 accessories items in France/Germany. I had them fitted onto my TRD, they fix onto dedicated factory fixings on the front frame behind the plastic bumper. Sev Marchall were bought out and integrated into Valeo in the mid-80s. I removed these from a '85 BX GT in a French scrappers about six years ago.
2.
Set of Mk.1 mud-flaps with front fixings
.The rears bolt directly onto the bumper. Again, off my '85 TRD. I gave them a quick wipe and the metal a wire brushing but they would come up alright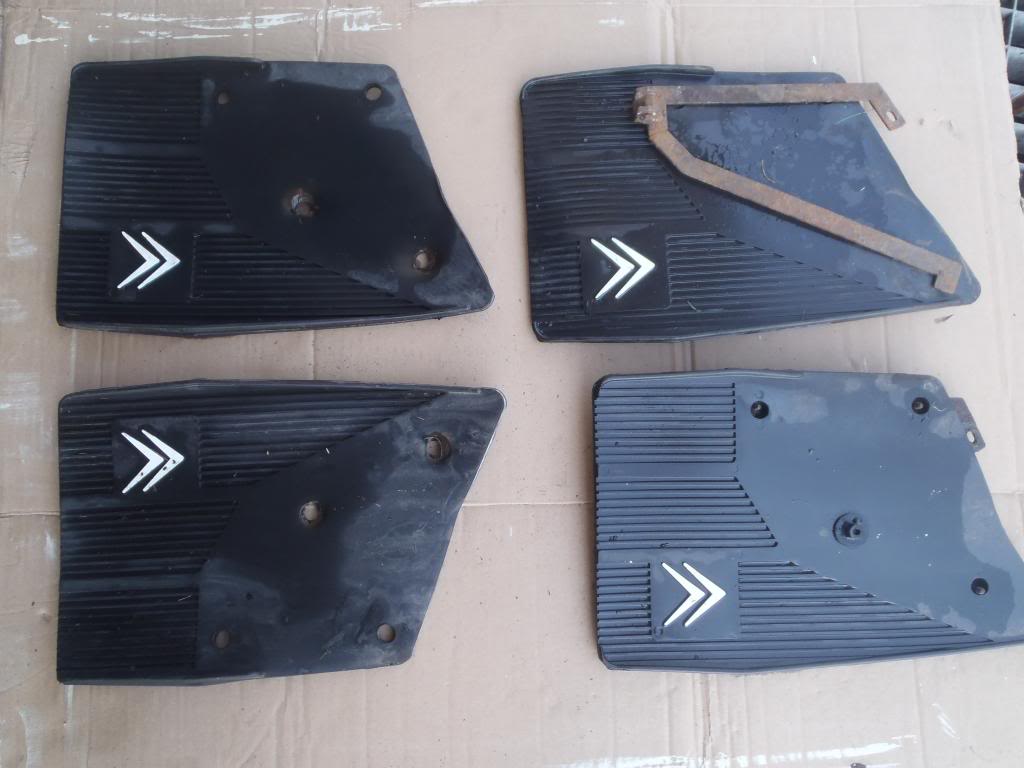 3.
Tailblazer
, it has a piece broken in the usual place where a helpful man in the drinks shop offered to open the back of the car for my pregnant wife and snapped it off. Piece is still there and can be easily glued back - second photo shows broken piece in place.
4.
Front mudflaps for 16v. New
I also have a rear set which are currently fitted to my 16v but have never been outside the barn.
5.Re-conditioned BX16v air-flow meter
6. BX16v timing belt kit
7. 16v head gasket set
8. 16v HT leads.
9. 'Baker BM' silicone hose set for 16v
see:
http://www.bakerbm.com/405.php?data=schkit16vbx
" onclick="window.open(this.href);return false;
10. Set of window air-deflectors
. Fronts original Citroen accessories, rear 'Airpress'
11. Front window air-deflectors 'wide-style'
Original accessories, wider than the previous ones. Almost wings!
12. Sun-roof wind-deflector with 'clima-control'
Original Citroen Accessory in Germany made by Air-press. Adjustable tabs control airflow. The furthest tab in the photo is cracked, can be easily glued. With fixings and rubber strip
That's it for now. Any interest, let me know...
Cheers!