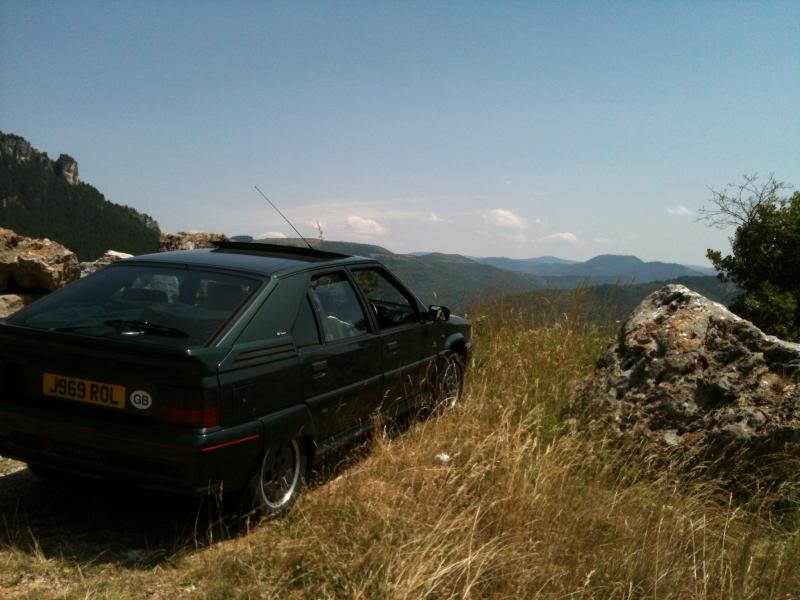 Thought I'd start a post for my lovely 16v. The picture is from a recent 2,300 mile round trip to the south of France (pictured here in the Cevennes national park), which passed without a hitch apart from one instance of starter motor reluctance in 40 degree heat.
It's had a bit of an interesting history, which I've culled together from the history folder provided by the previous owner and from looking back over various posts on the 16v forum, but it boils down to being a 1991 16v in a 1992 Hurricane body, with the only thing not officially 16v about it being the rear subframe and antiroll bar - the latter being slightly thicker on a 'true' 16v. Sadly you can't swop the ARBs over because the 16v ARB has integral brackets, whereas those brackets on the rest of the BX range are detachable. The previous owner (who shall remain nameless) lied to me about that and led to me wasting lots of time and money on trying to sort out his botched efforts, but let's not dwell on it, because overall he sold me a very solid car for a very reasonable price having performed the rest of the conversion to a high standard.
Having owned a real 16v for 10 years prior to this (which is now Patersom's one) I can't really say I've noticed much difference in the handling. I suppose it's a little less taut around bends, but hardly noticeable - especially because I doubt I've ever driven a 16v with the correct 16v spheres (has anyone?!). And the DVLA think it's a 16v so I'll leave it as that.
The engine allegedly had £9,000-worth of mods done to it by a previous boy racer owner. I'll scan in the garage sheet so you can all have a laugh at it at some stage. It has a 'chipped' ECU which only seems to raise the rev limit... The 3rd and 4th gears are from a 205 apparently, to improve acceleration. When I got it, it was all debadged apart from a modern 'Citroen' logo emblazoned across the rear bumper (gross), but I'm slowly putting that right.
Overall it is in marvellous condition, if I do say so myself. The fully refurbished wheels are a particular highlight for me. Cosmetic jobs that need doing, however:
- front passenger seat stitching has come away a bit
- new lacquer on the roof
- badges putting back (thanks Kitch)
- a few stone chips
- mudflaps fitting (thanks Todd)
It also has half an a/c system that I may or may not get round to finishing once I source all the missing bits (but the trip to France wasn't really that bad without it, I think we've all gone a bit soft about 'needing' a/c lately) and I reckon the fuel pipes look a little too corroded for my liking. The offside rear arm needs doing. Oh and the handbrake cables rub on the wheels, but then so do everyone's...
I'll update every now and then when I get round to these little jobs (and no doubt others that will crop up!)
Rob