It seems that with age, the contacts in the switch deteriorate and cause a voltage drop - leading to significant dimming of the dashboard lights when you brake, or a non-start situation if the starter won't turn. All four circuits in the ignition switch can be bypassed with a set of four relays, leaving the switch simply to carry the low switching current required by the relay coils.
Arguably this is curing the symptoms (of poor contacts) rather then the root cause, so while it may not be a perfect solution, given spares availability, it may be a realistic 'best' fix. Any resistance present in the contacts will be less significant - i.e. cause less voltage drop - with the smaller current needed to operate the relays, minimising the problem. Additionally, the relay coils will probably operate with a much lower voltage, probably approaching 6 V so the point at which voltage drop actually becomes a problem is less likely to be reached. Also, because the switch is carrying little current, the deterioration of the contacts will be much slower and instead will occur to the contacts in the easily replaced, universal 4-terminal relays.
With the aid of a section of loom cut from a scrap car (thanks Jaba!) this is what I've made. You could do the same with standard male and female spade connectors, but it's a little more fiddly to wire in plus they are the less common 4.8 mm type.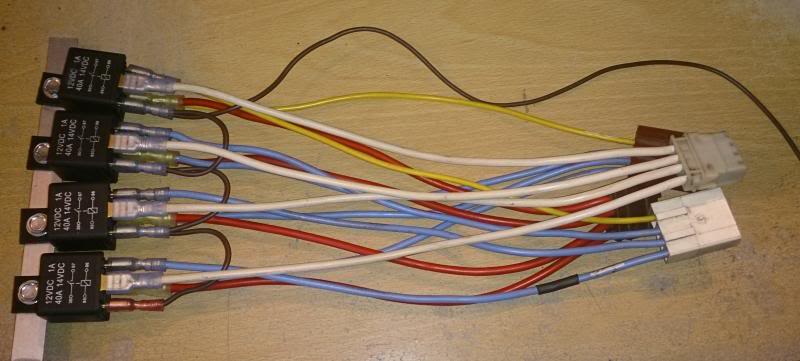 Current travels via the brown female connector down the red wires to terminal 30 of each relay and is linked to the yellow/blue wires to the brown male connector. A smaller current travels down these wires to the ignition switch.
Terminals 85 on the relays are triggered from the ignition switch by the white male connector and yellow/blue wires, and the output from the relays is from the 87 terminals via the white wires and white female connector.
The 86 terminals are all linked to earth via the single brown wire.
Dimming of the dash lights when braking is now minimal, and I've suffered no more failures to crank the engine over.