Here's where I'll post the ongoing tale of my 1992 BX GTi automatic and 1991 BX 16 TGI Break, which live with me in Salzgitter, Germany.
The GTi was acquired for 950 Euros in 2010 from Chemnitz, Germany. Here's my earliest picture of it, taken on the way home next to Dad's C5: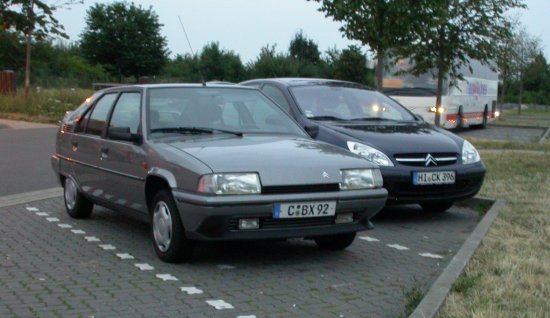 Originally nicknamed "Grisu" after a comic character (too complicated to explain why), it has since become known as the "Ölquirl" (roughly "oil beater" in the same sense as "egg beater") due to its torque converter

Things that have been repaired or replaced since, in roughly chronological order:
- GTi alloys with Continental 185/60R14 tyres (very pleased with those)
- New brake discs and pads all round
- One-spoke steering wheel instead of the original, but un-Citroen-ish three-spoke "sports" wheel
- Replaced central locking remote with matched sender and receiver
- New spheres all round, except accumulator which still seems fine. I opted for early BX 14 spec spheres (500 cc, 55 bar, 1.8 mm front / 400 cc, 40 bar, 1.1 mm rear) as per
this site
, and am very pleased with the ride now. Handling is not quite as defined as it was, but good enough for me -- despite the GTi badges, spoiler and wing, I see this car as a comfy cruiser.
- New rear arm bearings
- All-new exhaust system from cat backwards
- New brake discs and pads again (parking it for a year will do that)
- New front brake hoses and strut return hoses
All in all, the car has proven to be not quite as reliable as my previous one, a 1987 Golf GTI 16V, but has more than made up for it in fun, style, comfort and character. I'm seriously hooked, and despite two old Volkswagens still in my life ('70 Bug convertible autostick, and '83 Panel Van Diesel highroof) I cannot imagine a BX-less time for me in the foreseeable future.
Couple more (old) pictures: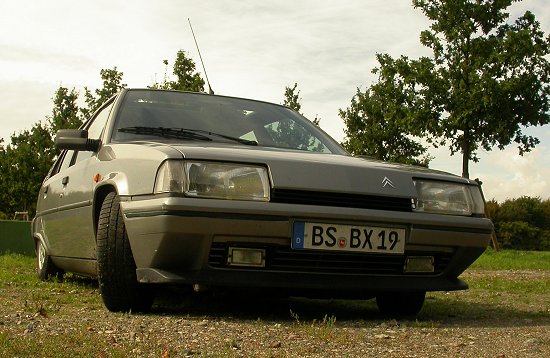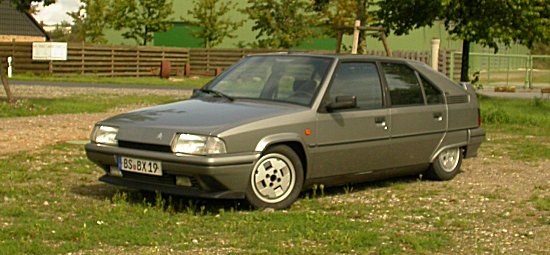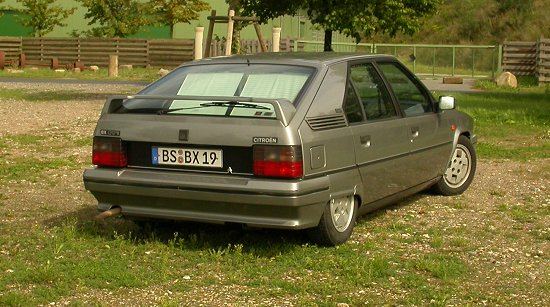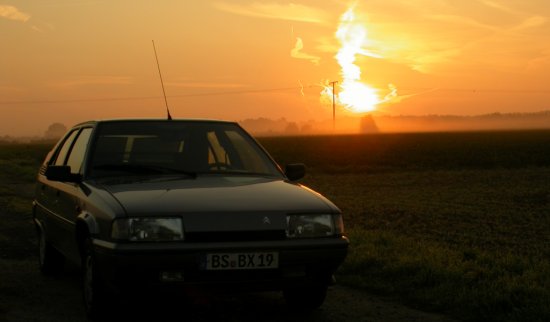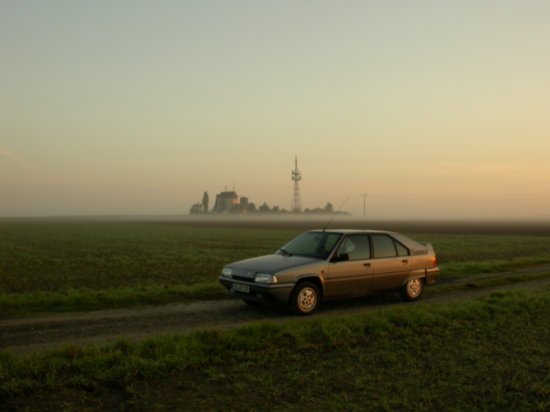 The upcoming winter will be the GTi's last one as a winter car. It's replacement as such is my 1991 BX 16 TGI Break, notable for its price (50 Euros), its mileage (an alleged 500,000 km) and its complete lack of luxury: manually operated untinted windows, no central locking, no power anything. It is going to stay like that, but will be fitted with TZI seats soon (the original ones are incompatible with my back, and also completely shot).
The only acceptable photo I have so far: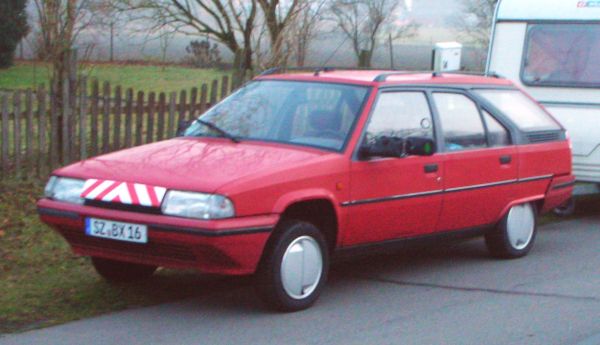 It's nicknamed the "Streifenhörnchen" (literally "striped squirrel" due to its stripes, actually "chipmunk"). The stripes are my doing -- both for safety reasons and as the first step of a planned decoration project, on which more when it's done.
Lots to do on that one, most of which is identical to the GTi's "done" list above, most notably rear arm bearings, spheres, and exhaust. But it will always remain the workhorse.
Lots to do on the GTi as well, of course. It never stops, does it? But then, at least there'll always be something to write about

Also planning some modifications, nothing drastic, but it will not be kept 100% original. (I'll keep the bits though, so if and when my taste changes, I can always go back to its original state!)
Very pleased to have found this forum and to have been warmly welcomed. Thank you! If there's anything I can do (translate, locate or relay parts from German sources, whatever), feel free to ask. Also feel free to pester me if I don't reply promptly, as I've been known not to do.
Yours, Ermel.