Also known as the red shell. For those who care why, I'll tap up my blog in a bit. But for now, the details:
G reg ph2 16v in red. Approx 130k miles on it. Been off the road since 2009 when it was pillaged for its engine for a 205 conversion. Car is complete......but in bits;
Body - paintwork faded, but I'm confident a good portion of it will polish up. Front wing has a ding and front and rear bumpers have minor grazes on which could do with repairing. In terms of rust, the shell is overall pretty bloody good to be fair. There is one area which does need more involved attention though, which is the offside A-pillar. The windscreen needs to come out, repairs need to be made around the aperture and to the A-pillar lower section itself. It all wants cutting back and rebuilding. None of it is an MOT failure, but you would want to sort it. Otherwise it's complete with all original 16v running gear and a set of correct ph2 16v wheels which can be supplied with legal tyres ready to rock. All hydraulics are present but can't be sure on condition as obviously I've not had it running. Front subframe pretty good.
Engine/powertrain - car was purchased with no engine. I have a D6C engine from another G red 16v which is complete and can be used in this car. It's got the starter, alternator, injection gear, HP pump etc....everything, apart from the odd hose or clip (were missing on the car it was removed from!) It could do with the tappets refurbing, and in the best case a de-coke, new valve seals and setting up correctly. It is, currently however, still a runner. Rolling roaded at 145bhp (most 16vs stick out around 155bhp, but I suspect the fuelling was out). Also has a good 16v gearbox fitted with a recent clutch.
Overall - I'm basically selling everything you'd need to put it back on the road. It's not for dreamers - there's a fair bit of work involved, so I would suggest it would suit somebody whose into the 16v for the long-haul and plans a rolling resto/hospital job. However, these are rare cars and in some cases, buying one in bits and putting it together yourself might be wise, as you'll know the car much more intimately than just paying more for a working one and finding out the hard way it's a dog.
Price - I want £700 for it all. Might sound steep initially, but there's a reason why, and I feel I should explain briefly; basically, I could break this car myself, keep lots of useful spares, make a few quid on the remaining ones and call it a day. But I don't want to. I want to see it back on the road. If I were to sell it cheap, there's less to stop someone just buying it to break it instead, and if someone's going to break it I'm damned if it's not going to be me that benefits from the spares & money, seeing as rescued it and have stored it since last year. If someone does buy it, and still decides to break it, I haven't lost out financially, and they've paid through the nose to do so.
To those who genuinely do want the car and want to rescue it, £700 wouldn't get you a brilliant ph2 anyway (certainly not one with an MoT) and the amount of work you may need to carry out might not be much shorter than buying one were the work is already outlined.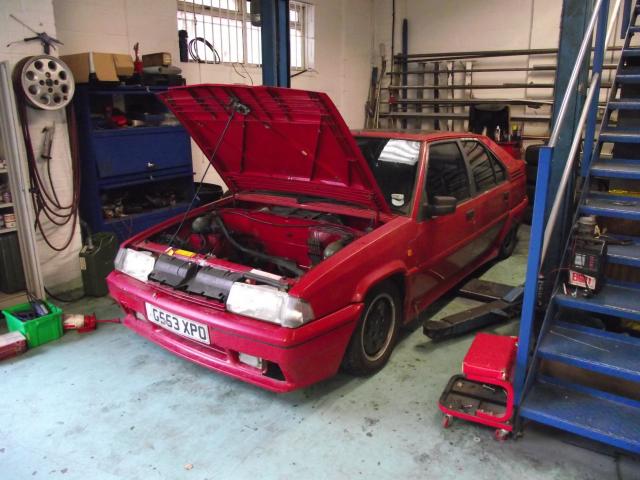 Also included in the price is delivery, by trailer, to the following counties:
Hampshire,
Dorset,
Wiltshire,
Surrey,
W.Sussex
So there we have it. Potentially, a mint red ph2 16v. All it needs is your elbow grease and time!