Messages: 4 • Page 1 of 1
---
RxBX

Over 2k
Posts: 2241
Joined: Wed Jan 28, 2009 11:51 am
Location: DERBYSHIRE
x 1
bigmaclf wrote:1.9 tgd mileage only 56413 cars & classic
I take it that its not your BX which is F/S as its location is 'Bury St Edmunds' as I see your location is Leeds, (if so this posting needs moving into the 'Spotted Section' )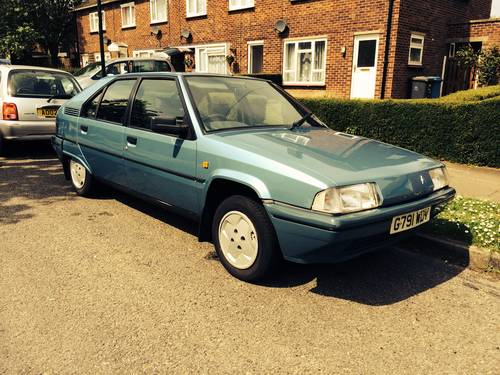 C&C Seller wrote:Excellent BX diesel, reliable and very economical.
Tax until end October 2014
MOT'd until 3 APRIL 2015 with just 1 advisory (roll bar linkage dust cover worn but functional)
Low low mileage for age.
Starts first time every time (might need 2 pre-heats in v cold weather).
Bodywork and interior very good.
Sits down overnight, but comes up quickly and easily.
New spheres all round at 52389 miles
Glove compartment cover missing.
Original Citroen mats, mudflaps and wheel trims (trims in need of attention)
Good 6mm all round on tyres.
Vehicle has a tow bar fitted, but I have never used it. Previous owner said it was used for a trailer, not a caravan.

No silly offers, please, they will be ignored.
Price: £899 Or near offer
Click on any image for link

Previous thread for
G791 WDV
when it was F/S on E-bay back in April 2013 !
.
---
greendale65

BXpert
Posts: 489
Joined: Sun Mar 02, 2014 5:52 pm
x 11
RxBX wrote:

bigmaclf wrote:1.9 tgd mileage only 56413 cars & classic

I take it that its not your BX which is F/S as its location is 'Bury St Edmunds' as I see your location is Leeds, (if so this posting needs moving into the 'Spotted Section' )

C&C Seller wrote:Excellent BX diesel, reliable and very economical.
Tax until end October 2014
MOT'd until 3 APRIL 2015 with just 1 advisory (roll bar linkage dust cover worn but functional)
Low low mileage for age.
Starts first time every time (might need 2 pre-heats in v cold weather).
Bodywork and interior very good.
Sits down overnight, but comes up quickly and easily.
New spheres all round at 52389 miles
Glove compartment cover missing.
Original Citroen mats, mudflaps and wheel trims (trims in need of attention)
Good 6mm all round on tyres.
Vehicle has a tow bar fitted, but I have never used it. Previous owner said it was used for a trailer, not a caravan.

No silly offers, please, they will be ignored.
Price: £899 Or near offer

Click on any image for link

Previous thread for

G791 WDV

when it was F/S on E-bay back in April 2013 !

.
Hello, Is car still for sale interested. Alan
---
Defender110

Over 2k
Posts: 5918
Joined: Wed Dec 16, 2009 8:02 pm
Location: Harwood, Bolton
My Cars: Land Rover Discovery Series 1 200tdi 3 door
Land Rover Discovery Series 2 Facelift TD5
2020 Fiat Panda cross 4x4 twin air.
x 26
RxBX wrote: Click on any image for link
As Richard stated, click on the image to link you to the advert with the sellers details then ring the seller to see if it is still for sale.
Kevan
1997 Mercedes C230 W202
2003 Land Rover Discovery Series 2 Facelift TD5 - Daily driver / hobby days and camping.
1993 Land Rover Discovery 200tdi Series 1 3 door - in need of TLC
2020 Fiat Panda 4x4 Cross Twin Air.
---
Messages: 4 • Page 1 of 1