Hi all,
like many new BX owners, I was keen to fit a proper temperature gauge and I found this one on Amazon
http://www.amazon.co.uk/9V-36V-Universa ... B009Z673VO
so thought I'd share it

I fitted it a few weeks back and I have to say that I have been very pleased with it. The display is nice and clear and starts to flash a few degrees befor the electric fan cuts in, which is quite useful 9casn't remember the exact temop it does this at, sorry!) It normally runs at 81c to 83c on my TZD.
It was very easy to fit, requiring an earth and an ignition controled live and the cable that comes with the temperature probe is long enough to route through the wiring grommet below the glovebox on the left hand side of the car. The probe has a 10mm thread so you need to buy or make an adapter to fit the BX. I utilised the yellow light of doom sender hole as this was faulty on my car anyway and I was lucky enough to find an adapter that fitted in my garage

Here's a picture of it mounted on the steering cowl, I've since moved it so that it sits to the right, under the tachometer as I'd inadvertently blocked out the high beem warning light with it in the middle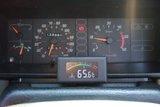 It comes with a removable bracket for dash mounting with double sided tape or screws or can be mounted on any flat vertical surface without the bracket. I think it's well worth the £11.99 purchase price and an easier alternative for those not wanting to strip the instument panel to fit a GTi gauge.
Regards, Jim