Hi all,
Whilst investigating a problem with my heater blowing cold today (possible partially blocked matrix?) I had a closer look at the non functioning control knob for the temperature control. This hasn't worked since I got the car and I just had the control cable sitting in the footwell so I could have it either hot or cold.
Anyhoo.... I thought that the white plastic backing plate to the heater control assembly was broken but on closer inspection, it's actually okay. What I can't fathom out is how the damn thing actually works

The black plastic lever on the back of the control knob turns independently from the knob itself so I'm assuming something is meant to attach the two parts together? Does the cable just push into the slot on the end of the aforementioned lever? I've attached a couple of pics below, any hints on how it's meant to look would be appreciated!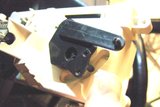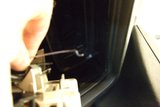 Regards, Jim