Hey there in the UK (and anywhere else)!
My Name is Steve (surprisingly) and i just registered in this forum to be in touch with other BX'-Enthusiasts.
Right from the start - please excuse my grammar and typo, i am german and not that good in english - but i will try my best, please be tolerant with me at this point.
Where was i at - introducing myself. I am a early-30s German and i use to work at french cars as a mechanic, thats my job. Sadly i am more specialised at older (D-Model, 2CV) and younger (C5 I-III, C4, C3, and that smaller rubbish) than in BX, CX and so on. So i hope you could help me out sometimes.
My car - its an late BX Series II, one of the real light ones - a 92' BX14TGE. I don't know if there was same labeling used in the UK, but
TGE
means like "
t
here you
G
o without
E
xtras", so its completely "naked". Sometimes they called this "Classic", which pretty much do it. No powered windows, no powered steering, no rev-counter (they blessed this car with a clock instead which could be watched from the guy 3 cars behind you, that size of clock), and yea - pretty much nothing. It has a stereo with 2 doorpanelspeaker in it, and thats all.
But i just wanted it that way - a pretty lightwheight car that is. And it has the later 1360ccm Engine in it - TU3M, i love that engine. Its easy to maintain and easy to tune. But i want to retrofit some extras afterways, and thats why i am here, too. I need some help with that.
Anyway, i checked some topics and found some things that was very useful for me. But - mostly because of my lack to understand this worldwide used language - please don't mind if i ask some things that may be already solved here.
So - i want to fit a "Kombiinstrument", maybe "gauge panel", in my 14. Mine has nothing except a speedo, some "its too late"-lights for oil and water and a very unmotivated fuel gauge, except in turns, that gauge love turns, it happily waves then. I got myself a "GTi"-panel instead. It has a gauge for everything, water and oil temperature, oil level, and a fuel gauge which seems to be taking its job honestly. I was wondering they didn't installed a gauge for earth-rotation-speed or humidity in it - but wait, there wasn't any space left, that explains it...
Anyway, i want to get that rpm-gauge to work and i am pretty sure that this is possible (as i saw a video on youtube with this, retrofitted). I am also pretty sure that i have to take a signal from the ignition coil plug (which has 4 wires), and i am pretty sure too that there is a connector already installed in the fusebox next to the left knee. If anyone could help me out here - you would make me very happy.
It would be a nice-to-have to get the water- and oiltemperature gauge working, too. There are already 2 sensor installed at the thermostat housing - i wonder if i could use or replace one. Sadly, none of both is connected to any wire at the moment. So the yellow "you are f*ucking the headgasket" and the red "great you fucked the headgasked" lights are not working anyhow. And the oil-temperature should be fine with a retrofit sensor in the oil sump outlet. But - how to wire this?
Well as i can see i wrote a lot, and thats not even everything, but i think i should stop for now. Just as germans are - speaking 1000 words but saying like nothing.
Just a quick picture of my 14TGE/Classic: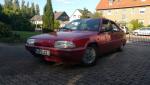 Thank you everyone, cheers
Steve