Remember this?
Posted: Sun Feb 05, 2006 10:50 pm Post subject:
--------------------------------------------------------------------------------
Well people, a spotted BX has now become a bought BX!!
I am now the proud part-owner of a maroon 1986 BX19TRD, bought near Swindon. Not just any TRD, a LHD model, imported from Italy in 1994, (given a C registration) - originally purchased in Rome!!! Complete with original Italian document pouch, Italian owner's manual, Roma dealer sticker on the tailgate, Citroen Italy warning-triangle in the boot and an Italian concertina style cardboard sunblind for placing across one's windscreen on hot summer days. Story is that the original Italian owner passed it on to his son who lived in Camden, and he finally lost interest in the car or something and it was passed on to the Cit specialist in Swindon who had regularly serviced the car while the family were over from Italy. Indeed it was apparently abandoned for a while in Camden on a parking permit, and finally had to be moved when the permit was due to expire!
160,000 KMS on the clock, engine smokes a bit on initial start-up from cold, but otherwise is absolutely sweet as a nut and breathtakingly quiet. I am *well* converted to the worthy merits of the BX diesel. And more importantly, it is no slouch! It flies!
Bodywork has a myriad of scratches and dents (very Italian), and needed a *DAMN* good clean and T-cut. After cleaning it all afternoon, we are still not finished getting this car looking nice. It has those lovely early TRS alloy wheels, and 4 good Michis. Oh and at some point it has been given a metallic blue series II bonnet... We don't know why.
At some point it has lived in Switzerland, because it has Swiss "MOT" stickers in the windscreen for the years 90-94.
All electrics work (except several dash bulbs), interior is nearly mint, and there is no visible rust anywhere. Haven't looked underneath yet. No power steering or sunroof... Front spheres are absolutely solid, but the rears... I was able to bottom the car out when I pushed down on the back! It needs little things here and there like all the exterior door handle mechanisms are seized and both mirror adjusters are broken. Rear arms seem good, accumulator might be starting to go.
==================================
It has since had 2 new spheres at the front and rides a lot better! The paintwork looks a whole lot better after several T-cut and polishes - no pic of how it looked before I'm afraid! My friend took it on a trip to Birmingham and back recently and it was good as gold. On Saturday we're going in it to Chevronics in Bedfordshire to pick up my GSA

Anyway, I *finally* have some pics of the car to post here!! These were taken at the Popham Airfield Car Show near Basingstoke some weeks back.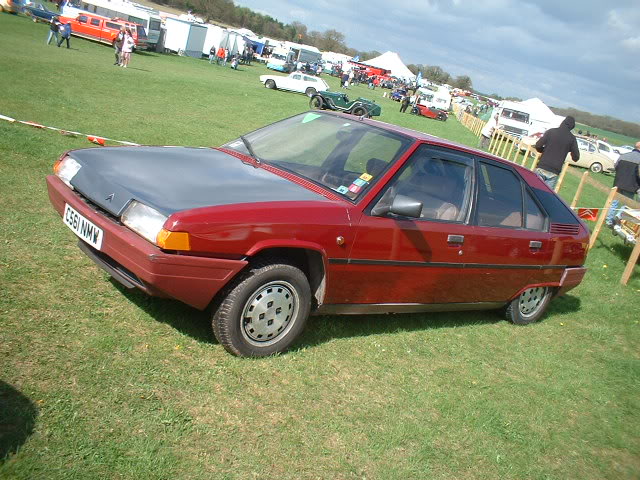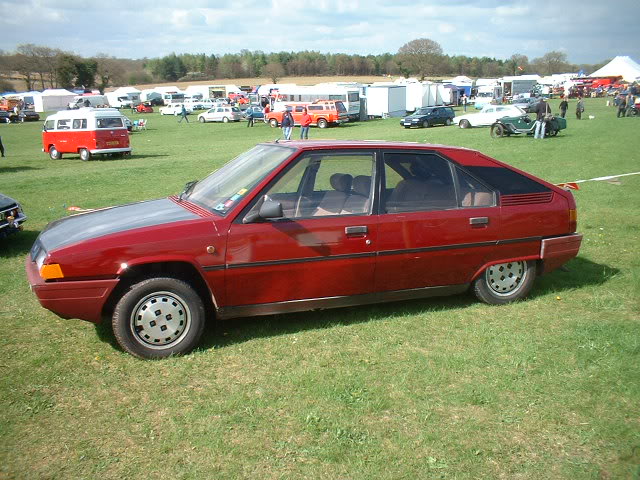 Hope you like the pics - might be able to take some more this weekend.
Mark.