Young Mr Vanny and I set off at some unGodly hour this morning (well, about 08.45, but it felt unGodly as I didn't really get any sleep last night) to whizz up to Vodka-ville to rescue Citroen7's newly acquired BX 4x4.
Right, cutting to the chase we arrive at said address and looks like no-one's in. Quick search of the car (remember Vanny's a scouser

) revealed the keys. Seller said he'd have the battery charged before we got there so Vanny shoved the keys in and guess what? Flat as a fluke, and the ignition was dodgy too

. No way it was going to start so after some manouvering of truck, Vanny's ace skills with spanners, a jack and some blocks of wood he had the suspension up. Time to winch it on and that was a task of it's own: Vanny remopved front bumper (or there wouldn't have been one left!) and very slowly we winched it on bit-by-bit using some wood on the ramps and floor to raise the arse end up enough to get it on without destroying the precious (and very cool) stainless exhaust. Anyhow got it on after Vanny's sterling efforts and off to go.
Journey back was only eventful due to the insanely high wind speeds on the M62 which meant some fun overtaking an artic and then getting down to 45mph up a hill.
So we arrive at Vanny's and in no time he's hooked up a good battery, buged a known good ignition on and after a few attempts, BINGO!, it fired up. Have to say it sounded awesome with the stainless exhaust which has just the right growl to it.
Front came up but back wasn't having it due to LHM coming out at a huge rate of knots from an HP pipe at the back. So, out with the jack and block of wood again (we removed the block when it was on the truck as I didn't fancy it moving or falling off) and with some crafty work with various planks of wood and broken paving slabs it was off the truck after some time, effort and a great deal of care was used.
Car looks pretty good to me and sounds well, I reckon once Vanny and Robin have spent a little time on it it will be a belter.
Right, enough waffle, have some pictures...
First off the vain attempt at starting it with jump leads outside seller's house...
The real deal, genuine 4x4 outside seller's house...
Lining up ready for action!...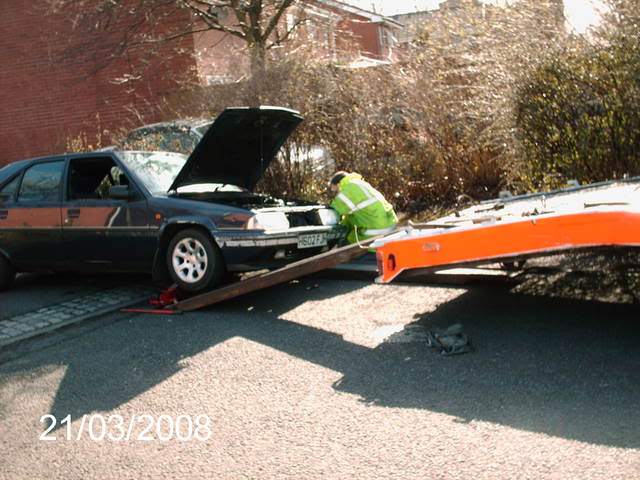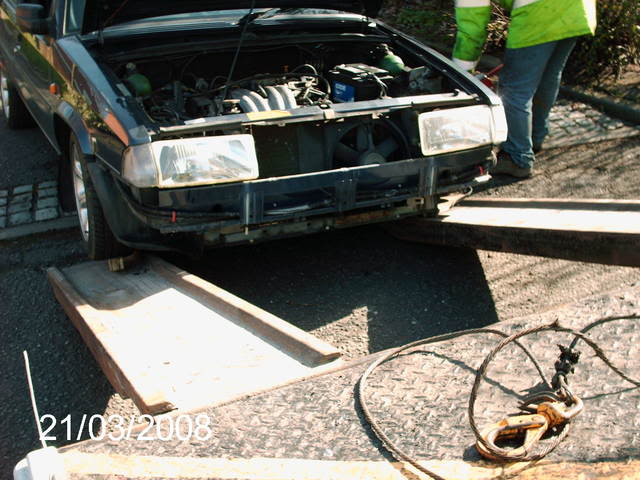 Hurray, she's on...!
Meanwhile, back at the ranch it's time to get ready to offload it...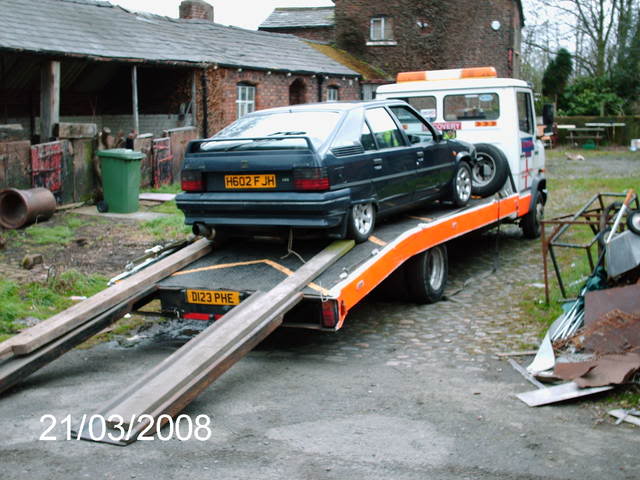 And just for good measure have a free picture of the most abandoned Mini van ever!