Messages: 5 • Page 1 of 1
toddao

BXpat
Posts: 2833
Joined: Fri Jan 12, 2007 5:01 pm
Location: The Hegau
If Bo and Luke had moved from Hazzard county to France..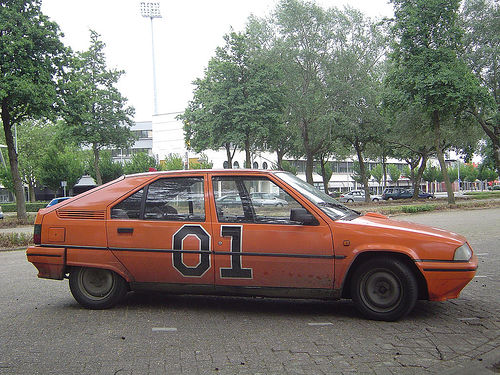 Todd
this yellow writing is really hard to read
---
cavmad

Keeper of the site Goat
Posts: 7857
Joined: Fri May 20, 2005 9:13 am
---
Jayboy

BXpert
Posts: 385
Joined: Wed Aug 03, 2005 1:20 pm
Location: Isle of Man
Finally caught on camera!

Where did you find the picture? I think this is the same car I saw in Italy at the same time as I was there for the 2CV World Meeting back in the summer of 2003. I mean how many Hazzard style BX's can there be?

You would not believe how shocked (and excited) I was to see it driving the opposite direction at speed and expected to see it on site at the meeting but never did. Thought I was seeing things but it has now been proven to not be a figment of my imagination.
---
Way2go

Over 2k
Posts: 7280
Joined: Fri Jan 13, 2006 3:15 pm
Location: RCoBerkshire
x 2
---
toddao

BXpat
Posts: 2833
Joined: Fri Jan 12, 2007 5:01 pm
Location: The Hegau
Jayboy wrote
Where did you find the picture?
I was looking at pictures of rat rods and rat vans In Google images and for some reason that was in there!
It's funny that you've seen it. Was it being driven by some 'Good old boys, never meaning no harm' being hotly pursued by Rosco P. Coltraine?
Todd
this yellow writing is really hard to read
---
Messages: 5 • Page 1 of 1