Messages: 4 • Page 1 of 1
cauchoiskev

BXpert
Posts: 282
Joined: Mon Aug 15, 2005 11:36 am
Location: France
Hope this isn't old hat, I hadn't seen it before. Great braking/suspension comparisons.
---
toddao

BXpat
Posts: 2833
Joined: Fri Jan 12, 2007 5:01 pm
Location: The Hegau
That's great - looks like mine probably did in its glory days. Also interesting to see the rear badge set up as my 'BX GTI' badge is missing. In France it said 'BX Soupapes' in UK - I think - ' BX 16 valve' but here had' BX GTI' to left of the hatch then the 16v badge added discreetly to the left of the rear number plate.
Wonder what that car is under the sheet? No wonder he looses control with a sheet covering the windscreen!

Todd
this yellow writing is really hard to read
---
TB2

BXpert
Posts: 320
Joined: Sat Apr 28, 2007 3:31 pm
Location: Switzerland
x 1
That ABS comparison isn't that impressive. I actually find it kinda ridiculous. That other car is much longer and obviously heavier and it's no big deal faking such slippering. But well, those were different times, when ABS was something exciting. The suspension comparison is neat though

I know of the early Audi 80 models with ABS that people recommend to disable it these days as it actually prolongs the braking distance...

A propos; I read on wikipedia that the BX was one of the first cars being design using CAD software.
Another thing I didn't know is that the design of the BX is based on the 1979
Volvo Tundra
Concept car...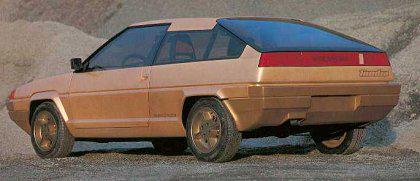 Carl

1989 TRD "Entreprise" Turbo Diesel
1989 16 Valve
---
Parts needed:
- One black leather headrest.
- FDV overhaul kit (95.669.034)
Please contact me through PN if you have any of this.
---
simonbx17

BXpert
Posts: 469
Joined: Thu Jan 25, 2007 8:44 pm
Location: whitehall, bristol
OH 80's

i've seen that one before it's quite interesting to see the comparisons, i think the car under the sheet is a f o r d sierra estate

TB2, i never realised the volvo connection until i was in a volvo dealership some years ago and they had volvo designs book on their coffee table and to my surprise there it was the tundra concept

although next time you look at the volvo 480 lower front grille then look at the bx's lower grille and see the simalarties.
Current.
00' Fraud Mondeo 2.0 ghia x......i know couldn't resist a bargain.
99' Peugeot 306 1.4 lx. nicely spec'd.
-----------------------------------------------------------
93' xm 2.1 turbo D saloon 203.000mls has been sold to "citroenxm".
---
Messages: 4 • Page 1 of 1