Hi everyone, I'm new to the club and have a white 19trs estate with 103,000k miles on it. I bought it when I was 15, but have been unable to do any work on it up until now - I'm now 16 and have a free summer, so will be tackling a few jobs - I'll be asking for plenty of advice!

The car had been off the road and dry (ish) stored for 8 years, despite this, we put some petrol in it, hooked up a battery and it started!!

for the first time in 8 years! It is in remarkable condition - virtually no bodywork rust at all and only surface rust where the waxoyl had dropped off underneath. However, the hydraulic pipes to the rear suspension and brakes are corroded (which is the reason it was taken off the road) and need replacing (as the car doesn't lift at all

) which is the main job for this summer. It has a beige interior which is in good condition - there is wear to the driver's seat, but that's about it (except the glove box had fallen off!). I'm looking for a new set of wheel trims as the originals are cracked and missing large bits of plastic, so if anyone has a set I would be interested - alloys or any type of trim. Well, I think that's about it - its an honest car that just needs a bit of tlc to get it back on the road - and plenty of advice from the BXclub!

It was interesting getting a completely low bx onto the trailer!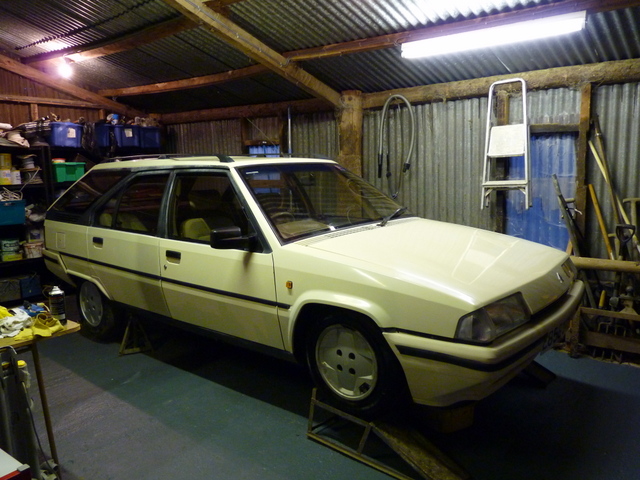 The glovebox is now fixed!