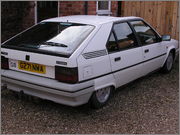 This is my long serving BX that has been in the family since new (G Reg, 1990) and has reliably taken us 170k around the UK and much of Europe. Always looked after, and kept for most of its life in garage when not in use. However it is now getting old and has alas sprung a leak in the hydraulics. I was minded to fix it up, but events have overtaken us. We are now having to move house where there is nowhere to keep it, let alone work on it. One of the harsh realities of life and I just have to be realistic.
About the car; for most of its life it was serviced regularly, mostly by garages in the early years and then by myself. I had no major issues, except for having to replace spheres (twice), replace front struts, and replacement of the rear suspension bearings after they seized. Replacement of the accumulator and regulator valve was the last main issue. Since about six years ago it has rested as a result of my working away, so now the battery is dead. I borrowed a battery off our Picasso, and the BX bless it, fired up first time, and rose on its suspension, despite the leaking LHM. There is no MOT, nor tax disc current.
It has 170k on the clock, and everything else on the car is sound - all electrics appear to be fine, and there is very little rust. The wiper blades also need replacement.
Not sure what else I can say, except that I will be sad to see it go and feel like a traitor. This will be softened if it goes to a good home rather than for scrap which would indeed be a criminal act.
So, I invite offers - if interested PM me or email via
asmith@the-old-barn.org.uk
Viewers welcome, but anyone buying will need a trailer for collection. Any questions, contact me likewise. Location is Leicestershire.