As per my chat thread, I've decided the TXD has to go. The reason is it failed it's MOT on a few things, although it turns out it's not all as bad as previously thought. Taxed till 31st March 2014, MOT till 26th November. 175,749 miles.
About the car, I bought it last December off of eBay for £300.28, it belonged to Jonathon_dyane (username on here) before the owner previous to me and in his ownership had many things done, including welding to the boot (still solid), sills and passenger front door strap/hinge. Other work done by him was clutch, head gasket, crank oil seals, rear arm bearings and some other stuff i've forgotten. Work I have done with this car includes a front brake overhaul in the spring (see MOT failures bit), 4 services in my ownership, a new driveshaft, pair of CV boots, pair of front wheel bearings, ARB droplinks on the front and two very nearly new Michelins on the front (adding up to over £500). Suspension is very lovely and soft, it has BX16 spheres fitted 2 years ago, still very soft.
Apart from the MOT failure points, the car looks and runs very well. There is a dent in the rear drivers side door courtesy of my neighbor, you may be able to pull it out further but a new door would be easier - I haven't got around to this yet - and the paint is poor in places. It was rolling roaded at Kitch's place in the spring and averaged 90.3bhp, it's perky when on boost (much better now i've cleaned out the intercooler and intake hoses) and pulls all the way to the governor but it also does between 53-58 mpg on my commute (A roads and dual carriageways). It leaks a little oil and water, I usually check weekly but only top up monthly, there's no bubbles in the expansion bottle or creamy in the oil.
Ok, so the bad bits. Quoted 15 hours labour at the very most by my garage to do all the bits.
Headlamp aim too low - due to rear suspension too high, just needs adjustment of rear HC.
Both rear and NS front seatbelt anchorage area excessively corroded (OS front corroded, but not excessive)
NS front lower balljoint excessive play
Both front brake hoses excessively corroded
Backbox fooked
Rear numberplate lamp not working
OS rear fluid suspension unit leaking - not sure about this one.
Rear HC weeping
Inner NS rear arch (subframe mounting area) excessively corroded - this isn't a job that requires dropping the rear subframe, it's just close enough to the mounting area to be structural, just a wheel off job.
Handbrake efficiency too low (driver side caliper has a spring on the handbrake mechanism, guess it's been binding in the past, new/recon caliper off of ebay ~£40)
NOT MOT related, but there is rust along the front edge of the sunroof, and the sunroof motor has fallen off of the roof (screws come out due to rust) the sunroof deflector keeps the water from coming in, but this will need soritng in the future (fine, as in not leaking, for the last year)
BUT it passed the smoke test, with a holy back box! Opacity was 1.23 (limit 1.50). There were advisories, such as oil leak (maybe sump gasket) and front strut supply pipe corroded but not seriously weakened.
So if you're handy with a welder and have time/patience, this is the BX for you! It's swift, economical, been well serviced, immaculate interior, taxed till April and has two nearly new Michelins on the front. It also has 2 weeks MOT. Not really sure what it's worth, I would like more than scrap value because of tyres/tax etc so £300 is what i'm asking - please feel free to make an offer if you're interested, i'd rather it be bought by someone on here than be scrapped/stripped for spares.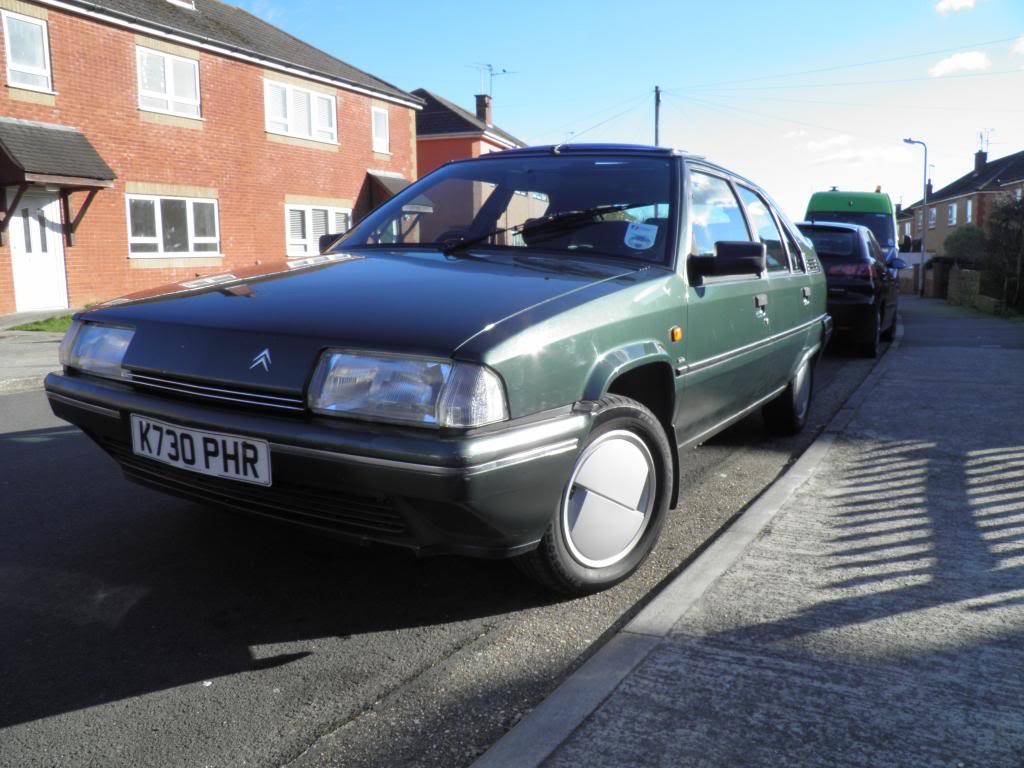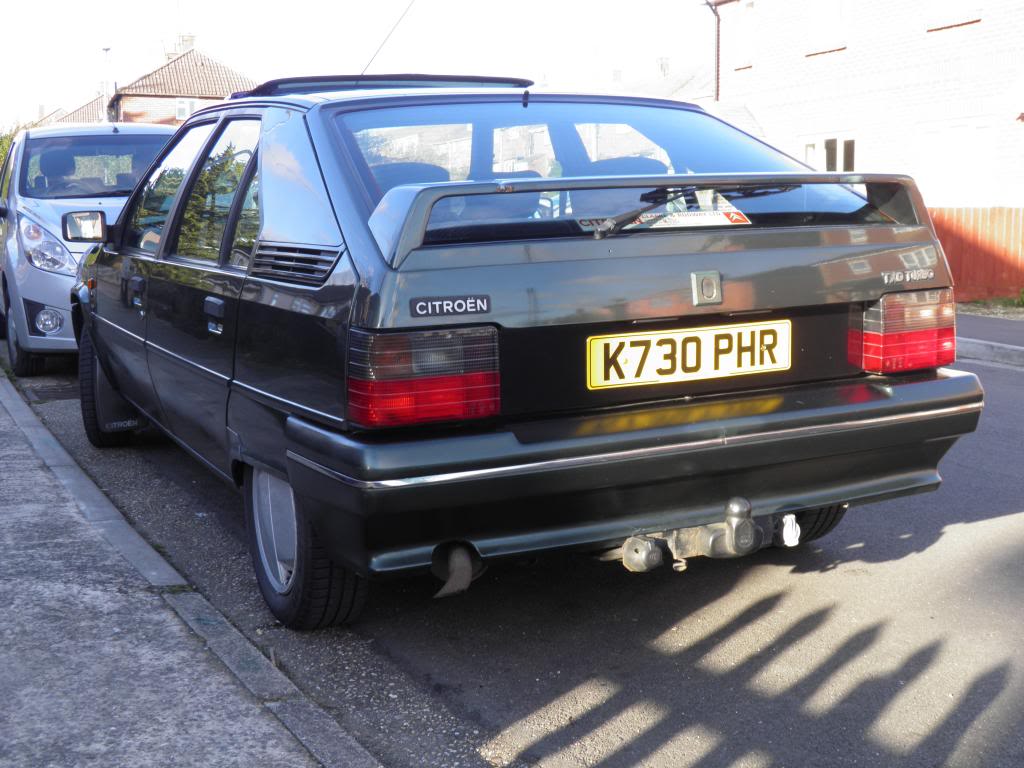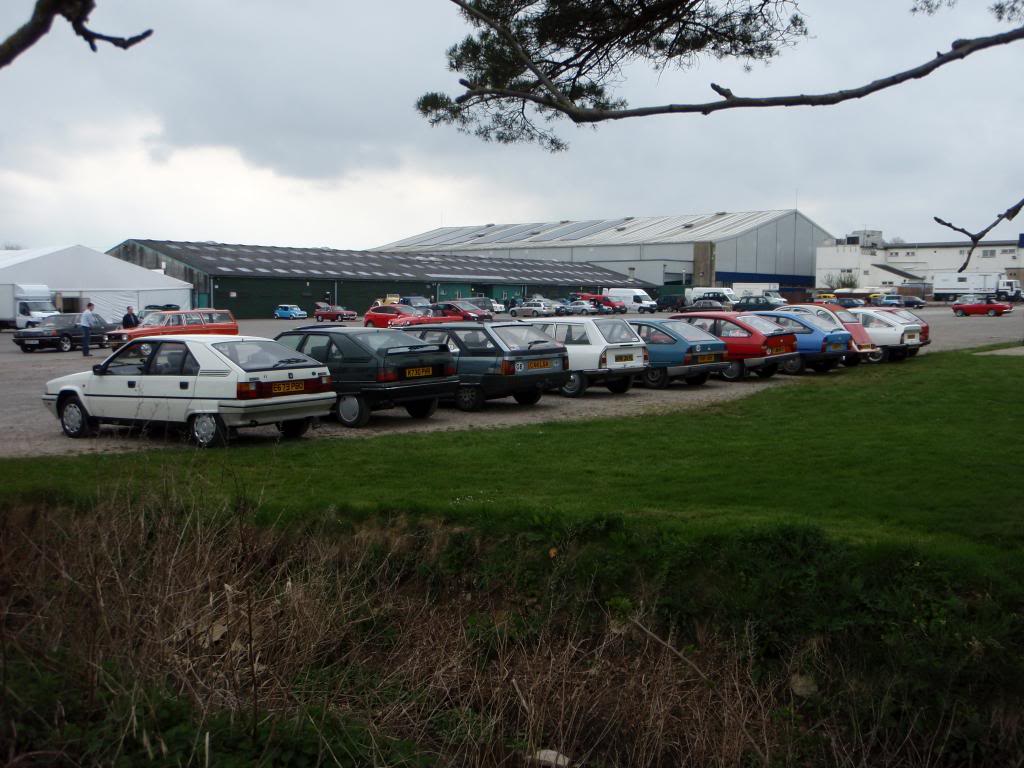 You can see the back is a little high here.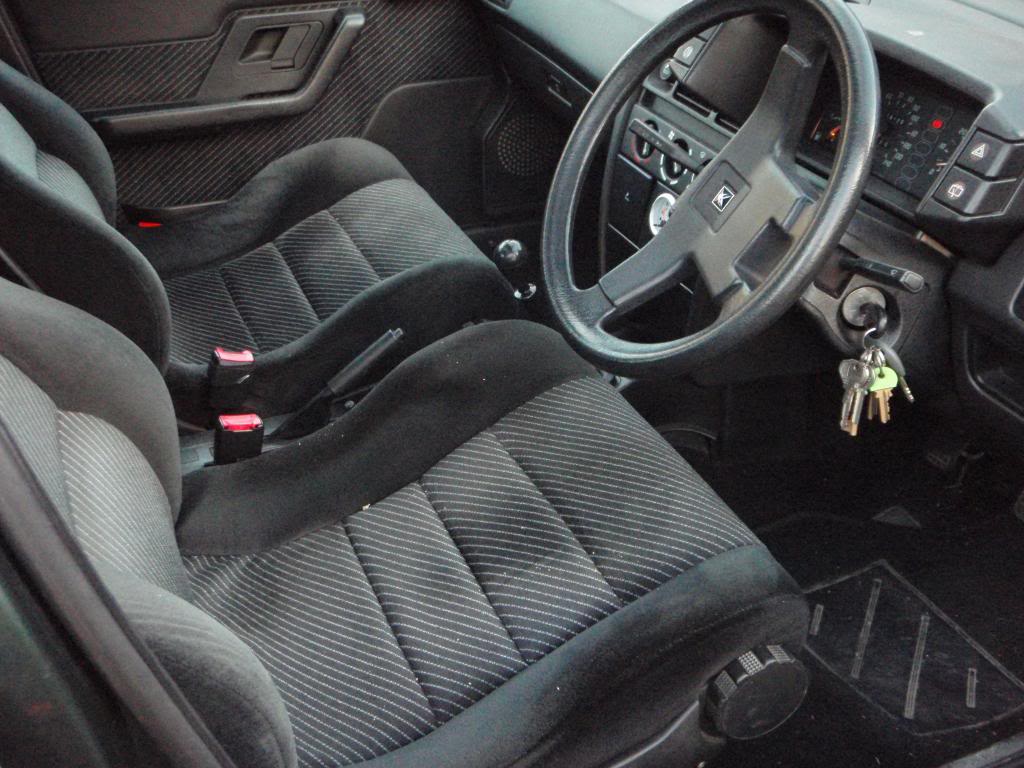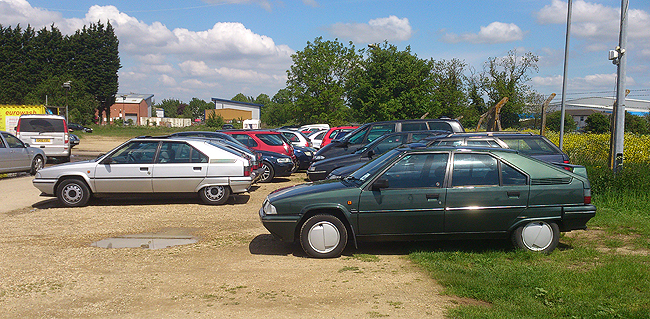 At the tech weekend in May, looks great from a couple of feet away!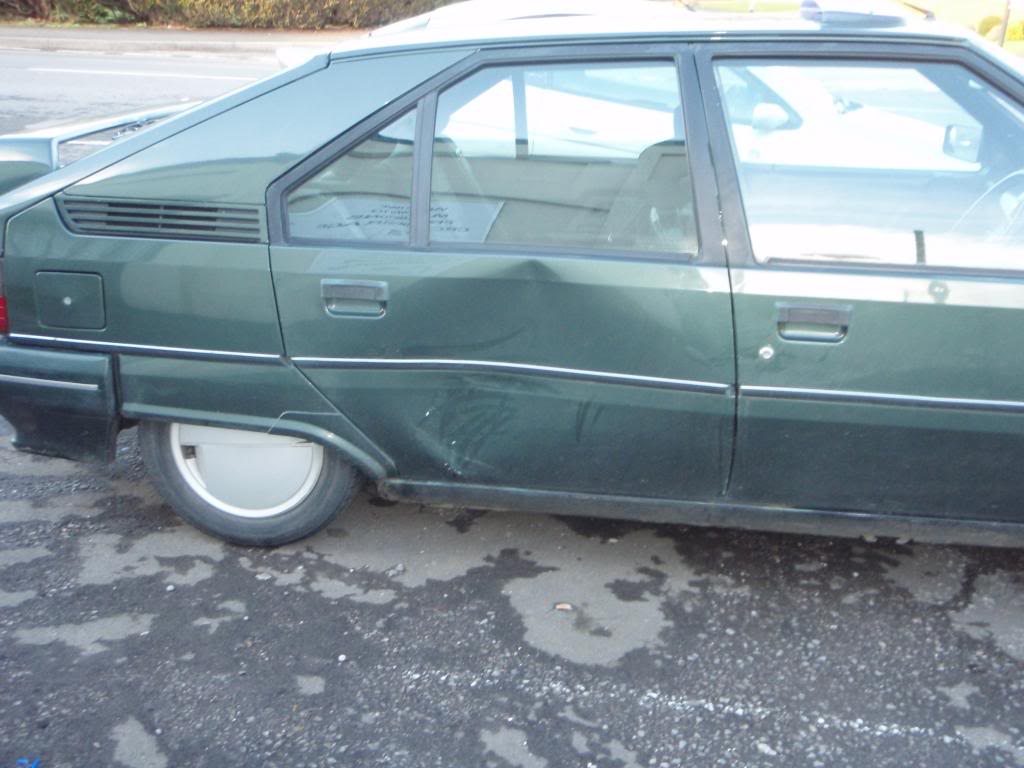 I've pulled the worst of the dent out, the paint has broken in one place, but only to the primer. This above is after it was hit, much much less noticable now, and the door still opens and window goes up and down fine still.