I have put my BX up on Car and Classic. Here is the link:
http://www.carandclassic.co.uk/car/C516356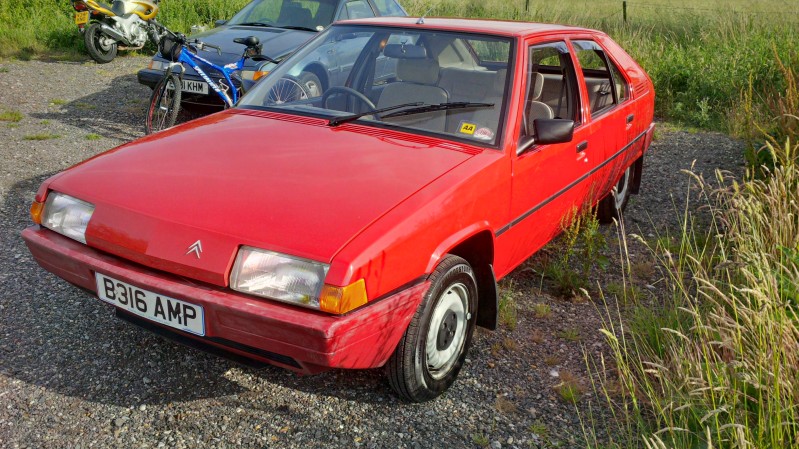 And a copy of the ad:
If you are in to BXs like I am, you will know how rare it is to find a Mk. 1 in this condition.

Bought in 1984 by Mr. Adams and passed to his son when he gave up driving and passed on to me when was in his late 60s, this car has been in the same garage for 30 years until I acquired it last year. Being garaged for 30 years means that it really is in as good condition as it looks.

Although working an well loved for 30 years it has had a fortune spent upon it at The Chevronic Centre, Hitchin to bring it back to its current state. The previous owner was retired and only tootled around Romford in it but in my care it was been known to cover 600 miles in a day and has been my utterly reliable daily driver. I have really woken this old girl up from her retirement and she hasn't missed a beat.

Of course, the bset course of action would be to use this BX less than I have now that it is in fine fettle. It would make a fine show car or weekend classic car as it is clearly nearly the best Mk. 1 BX left.

Both Mr Adams kept the most incredibly meticulous servicing records and it has had its oil changed twice yearly or every few thousand miles for its whole life. I wont bog this advert down with 30 years of hsitory but I have typed out the service records that he kept and can e-mail to potential buyers.

In my care it has has:
New exhaust, front to back
Front spheres (correct, early BX14 ones)
Front tyres (correct, early BX14, 145/80R14, at £80/tyre)
Full service (including dis. cap, rotor arm plugs, HT leads, filters, oil)-- no service items outstanding, everything is up to date!
Strut return pipes
Various CV and ball-joint boots
Coolant flush
New coolant chamber
Tiny bit of welding on end of sill before it got out of hand (nowhere near an MOT fail)
New seats (unfortunatley Mk. 1 BX's were clothed in tissue paper so it now sports great looking and hard wearing tweed from a Mk. 2.
Climair window deflectors
Repair to driver's window winder mechanism
New(ish) radio (original 3 speaker set up, optional extra, retained in car; original Radiomobile twin spindle radio MW/LW included in sale)
Carb cleaned out and re-set up

Recently, before I bought it, it had:
A new clutch and cable
Repair to push rods in fuel pump (machined spares included).
The valve timing must have been adjusted throughout its life as this little engine purrs!

Rob at The Chevronic Centre has spent a fair bit of this car and has said it is a lovely example and drives brilliantly and smoothly. In fact, I have his blessing to use his name in this ad!


To make perfect you should replace the driver's door because up close you can see it has some rust in the back corner, probably from a blocked drain hole a the rest of the car is great.


Located in Cambridge for viewing, I'd prefer collection from there but, in theory could deliver somewhere if you'd like to discuss it.

MOT until August; I'll but 12 months MOT on before it goes too (completely confident it will go through). 97k Miles.
No suspension issues at all, it is in fantastic condition underneath. Martin at Pleiades commented on how good it was (as in rust free) and let me get pictures of its undersides when it was in for sphere replacement and a suspension check up.
Basically, its mecahnically perfect, and the bodywork is perfect apart from the driver's door which you shold replace at your leisure and a scratch which must be from a petrol pump nozzle above the filler flap which is bubbling under the paint.
Every service item is "in date" and it needs absolutely nothing until the next scheduled oil change in 5 months time.
I know everyone says "genuine reason for sale" and all that bollocks but I don't mind filling you in on the details here on the BX Club forum. Basically, I have got a fantastic new job in Farnborough but I am going to still live in Cambridge as one of the perks, I think, is that the job is 4 days-ON / 4 days-OFF.
So, the BX will have to go to finance some sort of caravan to live in if I can find somewhere to put it near Farnborough airport. For this reason, I will consider a swap for a cheap caravan and some cash or a motorhome (probably with no cash!).
The Volvo 480 is now back on the road and is easier to put the large miles on on a weekly basis. The BX will obviously do it, in fact I am amazed how many happy miles I've put on it. I'm sure you'd agree that its criminal to put 1000 miles/month on a near-perfect Mk. 1 BX.
I have wrestled with this decision, but this time I really mean it! I have satisfied myself with the promise that in the future I will get another Mk.1 or possibly an XM, CX or C6.
You can contact me on this forum, and I am happy to give out my number by PM for anyone who would like a chat about BX.
Tyre kickers welcome as I am un-employed until August 4th so have plenty of time to give if you want to come and take a look! I'm in Horningsea, Cambridge and would prefer cash on collection but would happily deliver if you'd like to discuss that option and pay my expences if you can promise this BX a good home.
Mileage has just today ticked over to 98,000 miles; Tax is until end of August 2014 and I will sell it with 12-months MOT on it.
£1500 o.n.o
Here's a link to loads of recent pictures:
http://smg.photobucket.com/user/jamesca ... For%20Sale