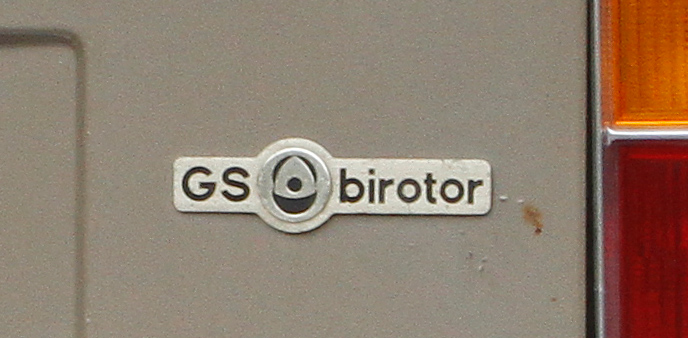 Some of you may have spotted clues about me looking at a GS Birotor in France a little while ago – involving one day of 650 miles in the BX Sport and second day of 550 miles. After giving it a look over I realised the structure looked pretty sound I decided that this car was going to be the only way I'd ever manage to afford a Birotor. Wankel engines are not too expensive to rebuild – they have a relatively small number of parts and Mazda have solved the seal problems that plagued the early rotary engines. I managed to agree a deal with the French seller despite him having no English and me have a tiny amount of French…
Well last week I went over and collected it on a trailer behind the C8. Two sets of ramps were needed to get it onto the trailer – the seller had never had the engine running so the suspension was completely down. But we were away within an hour and a half including completing the paperwork. It came with a Carte Grise – which is needed in order to get it registered here but in France you need a CT (the French equivalent of MOT) in order to get the Carte Grise – he'd managed to get a CT for this car!
The Birotor has a Wankel engine almost identical to the NSU RO80, bodywork mostly similar to a GS but with slightly wider front and rear wings, a different front end underneath – the Wankel motor is arranged transversely with C-Matic gearbox a la Cx and the brakes are suspension are supposedly pretty much CX like. The rear brakes are apparently SM.
I took it over to the Westons today and first job is to get the engine and gearbox out so that a rotary engine specialist can go through the engine. The plans are to strip the engine bay out – it needs repainting as does most of the car. There's some welding to the front end of the nearside sill to be done and probably other places too. Tyres will need to be sourced too…