Hi all,
As per the title, I've had the fuel system apart on my car and it won't start now everything has been re-assembled. Hopefully someone can point me in the right direction or let me know what crucial bit I've overlooked.
The back story:
I disconnected the hard fuel lines between the fuel pump and the injectors so I could carry out a compression test. I also disconnected the power feed to the fuel pump stop solenoid to stop the fuel while I carried out the compression test. While I had the spanners out I also changed the diesel filter. I reconnected everything back up and now the engine cranks but just won't fire.
Things I've checked so far:
1. I'm getting power to the glow plugs when the ignition is on.
2. I'm getting power to the stop solenoid when the ignition is on.
3. I loosened off the hard lines at the injectors again in case there was air in the lines. How much diesel should I expect to see coming out of the lines if everything is working correctly?
4. I've pumped the Rotodiesel primer button A LOT. I always expect a bit of hard starting for the first time after the diesel filter has been changed but I've tried pumping the primer a lot and the button doesn't seem to go hard like I remember it used to. I seem to get a hissing / whooshing noise both when the button is depressed as well as when it is on the return stroke. After a lot of pumping I also get diesel leaking out past the priming button (see photo below).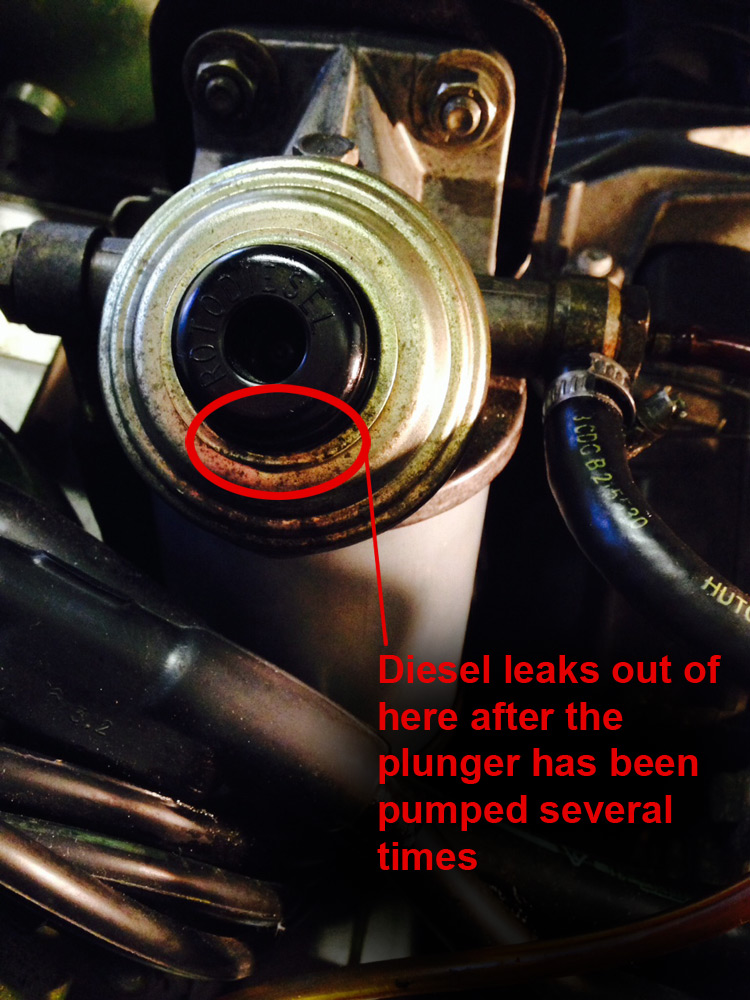 After I've cranked the engine I can also hear a hissing / whooshing noise as if air is being pulled in past the primer button. Does this point to a knackered diaphragm or seal on the fuel primer?
Are there any further tests I can carry out on the stop solenoid?
Any advice or suggestions would be much appreciated.
Cheers,
Phil