Finally, several weeks late, here are some pictures of the BX14 TE St Tropez from Kent that my friend and I bought for £70 off eBay - 61,000 miles, with tax till end of this month, and MOT until August. I was hoping to get around to taking some better pics now it's all washed and polished and hoovered - but my camera card's packed in.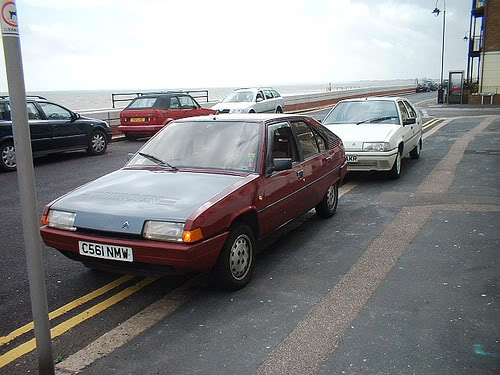 Lined up with the Mk1 19TRD on the seafront at Hythe!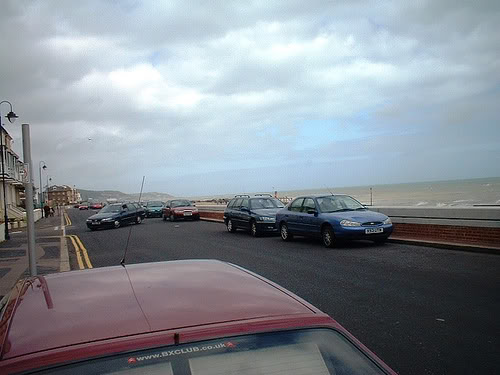 It was quite a nice day really! Note the BXClub Sticker in the picture!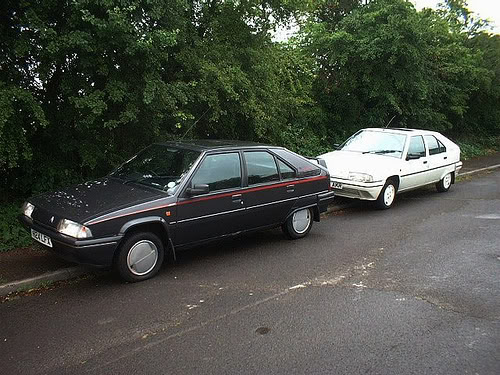 Back at the Ranch... two eBay BXs meet!
I'm babysitting the car at the moment because my friend has too many cars already and he's moving house soon! It just needs a balljoint for the MOT, a new clutch and the rear silencer needs looking at because it's banging loudly against the subframe. Rear arms seem good, all spheres good but accumulator is just on the way out I think. It really shifts and is very free-revving. The engine note sounds *so* much more growly/sporty compared to the 1.6 when pushed hard! The non-assisted steering is *not* a problem. Much easier than parking the non-assisted Mk1 diesel which has really heavy steering. Only annoying thing, in this heat, is that the blower will not give out "cold" air (?something wrong with cabling/heater tap) and the internal vent don't shut when the fan control is turned to zero - so it gets quite hot in there... But apart from that, very nice and it's polished up well. Just a shame about the creases across both driver's side doors

Cheers,
Mark.