I was woken up by my housemate informing me that a car was on fire... NEXT TO MINE (note red BX on the right of the picture!)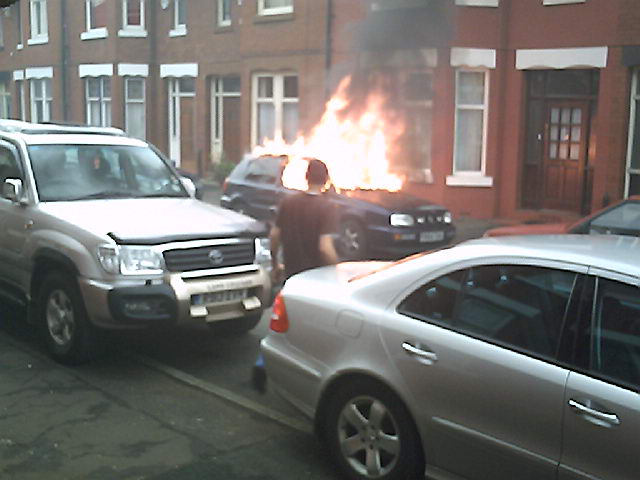 "Hmm," thinks I, "plastic bonnet and fire make unhappy bedfellows," and ummed and aahed for a minute about the possibility of the Golf's petrol tank blowing up. Someone torched a Pug 307 behind our house last year, and it blew quite quickly, so I was understandably a bit wary. But since my mum's car caught fire and took two of my dad's cars with it, I decided the BX needed to be saved in case the Golf passed the fire on.
I drove out (the Golf was rather warm, no two ways about it!) and did a 20-point turn to avoid getting too close to the Golf (you can't see it on the pic but my BX was backed right up to someone else's car behind, so not much maneouvring room), all with the hydraulics still on the way up, because speed was of the essence

Shortly afterwards this happened...
And all was calm on the street again (apart from the fire engine noise... and the police vans... and the broken glass, and the burnt patch on the road, and the recovery truck, and the policemen currently in my front room taking statements...)